When it comes to the seaside beach vacation, what beach do you first think of?Spring is a good season to travel.Any people who want to go to Southeast Asia for beach vacation recently?If you're looking for a special seaside vacation, Southeast Asia's many islands offer the best value for money.Do you have any plans to visit any islands?There are many beautiful islands scattered throughout Southeast Asia.It's time to see which 18 Southeast Asia islands are worth visiting:
Malaysia
1.Mataking Island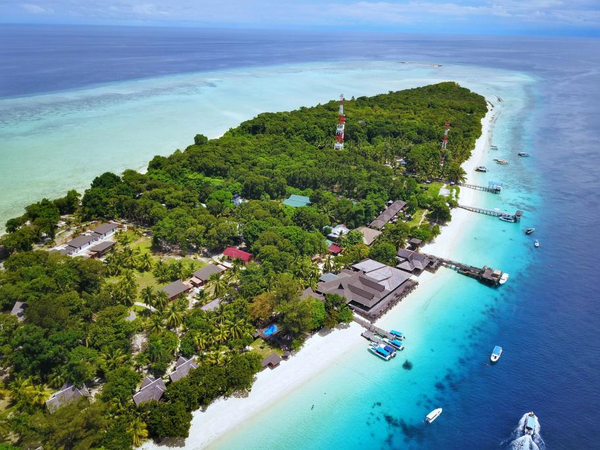 Among the numerous islands in The Sea area of Xianbena, the environment of Mataking Island is the most original and ecological, which is also the most suitable for staring at the three-color sea water in a daze.There are only log cabins with garden or sea views surrounded by lush vegetation.Snorkeling here reveals colorful fish, coral, starfish, and ubiquitous turtles.Most interesting of all, Mataking consists of a main island and a small one, and when the tide goes out a long, thin strip of sand emerges in the middle.You can walk directly from one island to the other, but this sand path only appears for about two hours a day, and once the tide is high, it disappears and becomes two separate islands. It's amazing.
Cost:From RM1,000 per night at the island resort
2.
Pom Pom Island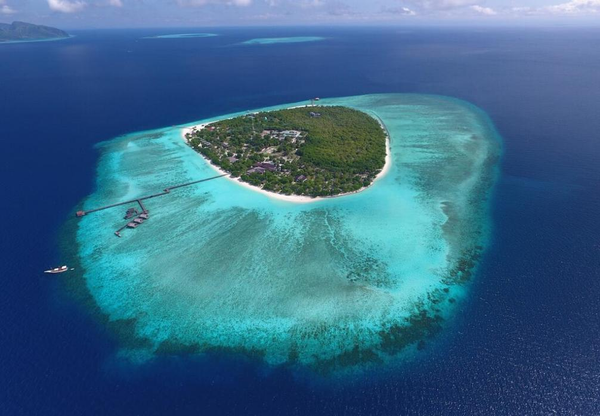 Pom Pom Island is a private island off Madajin Island, with pristine white sand beaches, overwater houses, luxury resorts cover and contain everything. In particular, there is a coral and turtle conservation center on the island, where divers and volunteers from all over the world devote themselves to the conservation of Marine life every day.If you're interested, sign up for a two-week volunteer project to help save and protect sea turtles and learn how to grow coral.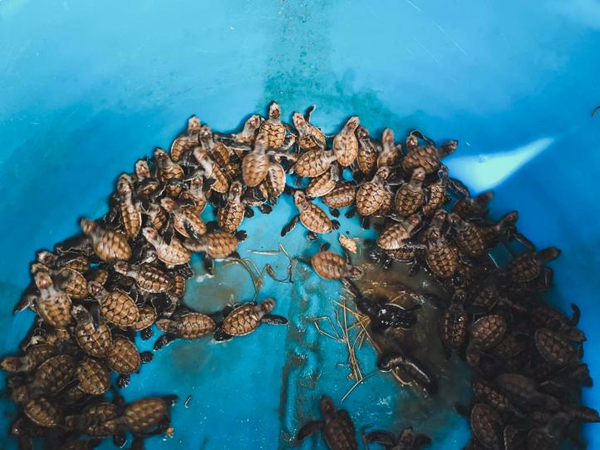 The accommodation at the Cherating Turtle Sanctuary is tent only, unlike the luxury services of the resort, and electricity is not available on the island during the day, only at night. Be prepared before you travel.I'm sure it must be the experience of a lifetime.
Cost: Around £1,000 for a two-week programme.
Transportation: About 45 minutes by speedboat from Semburna Ferry.
3. 
Mabul Island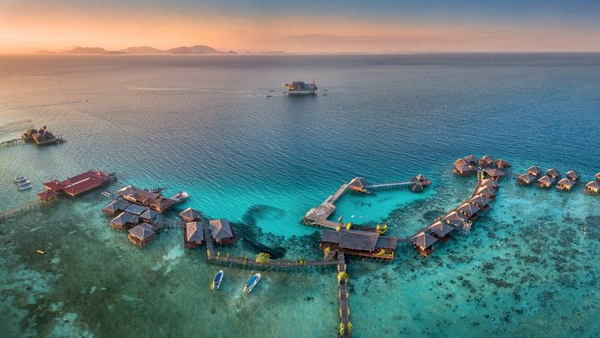 If you want to experience the most original ecological island of the Bajau, you must not miss Mabul Island.Half of it is a luxury resort, while the other half is filled with indigenous Malaysians from Bajau.The aboriginal people have simple living conditions and simple folk customs.Every morning outside the hotel's water house, fishermen of the Bajau pass by in small boats, sometimes even children, hawking all kinds of seafood, such as giant grouper, lobster and deep-sea crab, which can be easily bought at unexpected prices.You can come across giant lizards everywhere on the island, so don't panic if you do.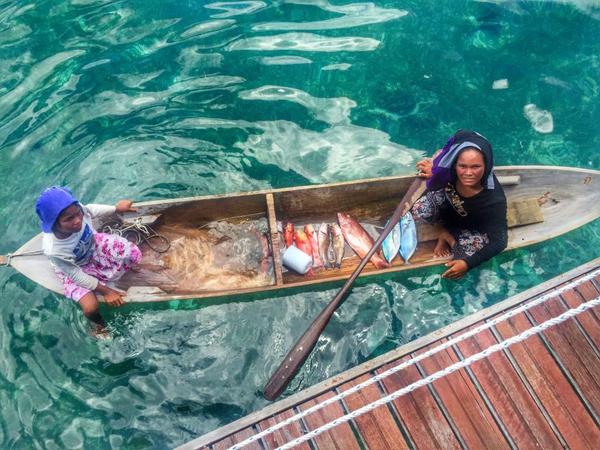 Cost: There are several resorts on the island, with accommodation prices ranging from RM500 to RM1,000 a night.
Transportation: After international flights arrive in Kota Kinabalu, the capital of Sabah, Malaysia, take a domestic flight to TWU. From TAWAU airport, it is about 2-3 hours by car to Semburna Wharf, and from the pier, it is about 45 minutes by speedboat to Mabul Island.
4.
Kapalai

The Kapale resort is one of Southeast Asia's most famous floating houses.Some 60 individual holiday homes stand on the shallow sands of Kapale Island.Around the holiday house is the vast sea, like floating on the sea dream home.When the sun is fierce, you can sleep in my room, stare into a daze, read a book, take a bath, go snorkeling in the morning and evening to watch the fish, and walk to the white-pink beach hundreds of meters long to watch the sunset. You will never feel bored.The hotel also offers a variety of water sports such as diving, scuba diving and kayaking.
Cost:$ 500-600 for 3 days and 2 nights snorkeling package, including shuttle and 3 meals.
Transportation: After arriving at Tawau Airport, you can take the hotel car to Sempoma, and then take the speedboat to the island.
Indonesia
5.Nusa Lembongan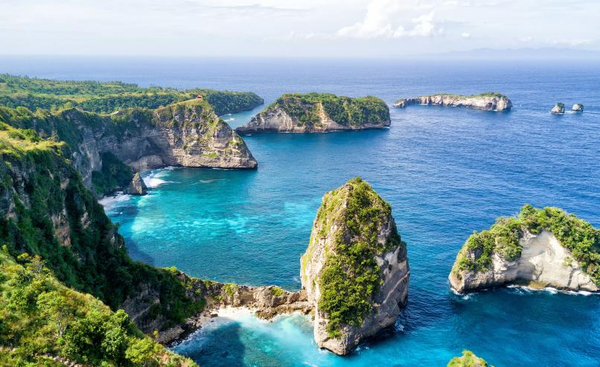 Nusa Lembongan Island's water is as clear as Tiffany Blue. On the west coast of the island, there is a very beautiful beach - "dream beach", the sea from deep blue to shallow, the beach sand white, fine, soft, strong waves, big not suitable for swimming, but it is a surfer's paradise.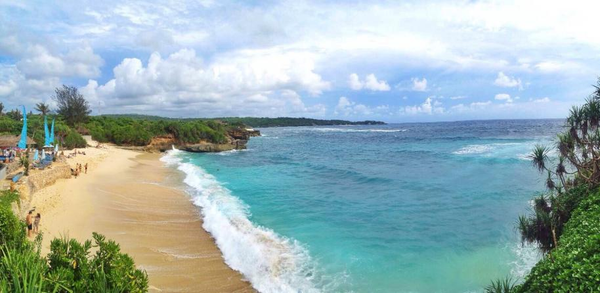 Near Dream Beach, there is one of the best tide viewing points on Nusa Lembongan Island, which is known as "Devil's Tears".On the edge of the cliff, when the tide will have a huge wave gushing up, stirred up 20 or 30 meters high spray, very spectacular.It is also one of the most beautiful sunset viewing spots on Nusa Lambongan Island. If it is near dusk, you can see the most beautiful sunset directly from here.
Cost:Free
Transportation:Fly internationally to Bali International Airport and take a boat from Bali Quay to Nusa Lembongan Island.
6.Lembeh
There is a saying in the world of diving: "If you don't see any exotic creatures in Lembeh, you probably won't see them anywhere else on earth."Lambeh is one of the world's top Dive sites in the Muck Dive, where nutrient-rich volcanic ash breeds many rare species.Most of these species are small and require macro photography, hence the term macro diving.On the surface, the Lembeh is plain, a barren land of sand.You need to use your eyes to observe the amazing species:Hairy Frogfish,Pygmy Seahorse,stone fish and more.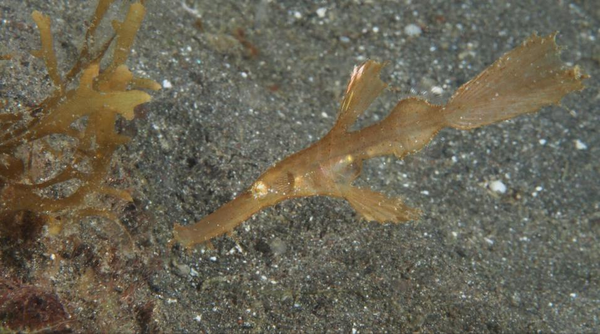 Ghost Pipefish
Cost:about $150 for three dives per day (not including equipment)
Transportation: Arrive in Manado and take a bus to the Lembeh Strait.
7.Ambon Island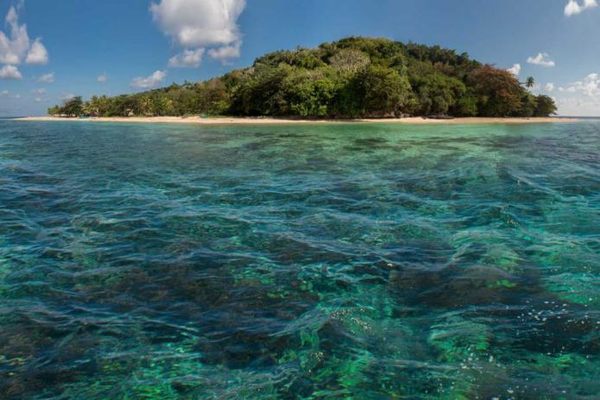 Ambon is known for its Muck diving and is known as "Little Lembeh," but it has something that Lembeh doesn't, besides underwater volcanoes, it also has glowing fish.Dive down at Alfa Point and enter a cavern where the water is just over a metre deep and crystal clear.Then, follow instructions to turn off the flashlight.Near the light at the exit of the cave, blue patches larger than a coin twinkled in the water. The blue light came from a fish that looked like Aurora in the water.Flashlight Fish, which normally lives in the deep sea, have only recently been found in this cave and are rare.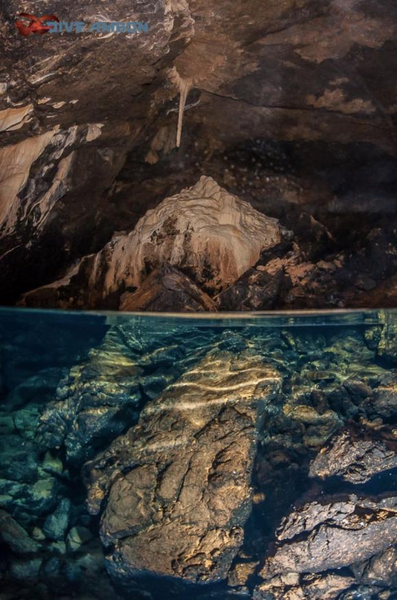 Underwater Caves @diveintoambon
Cost:The local dive shop offers meals and three dives a day for about $300 a day
Transportation: Transfer from Jakarta or Bali to Ambon, pick up and drop off by appointment at local dive shop.
8.Raja Ampat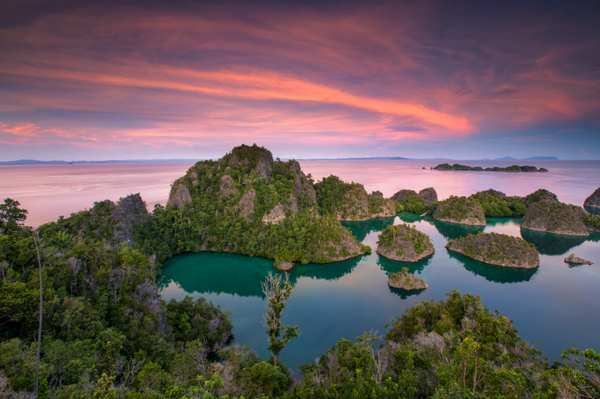 One of the holy grails of scuba diving, Raja Ampat Island is home to the highest diversity of species in the world, and new species are still being discovered.Among them, the Wobbegong Shark that can be seen in the water almost every day is called the Raja cute creature. Unlike those fierce sharks that rush to kill and prey, they are colorful like wearing a flower skirt and swaying when swimming, but most of the time they are sleeping.Of course, don't look at it cute reach out to touch, it is still a strong bite and agile body shark.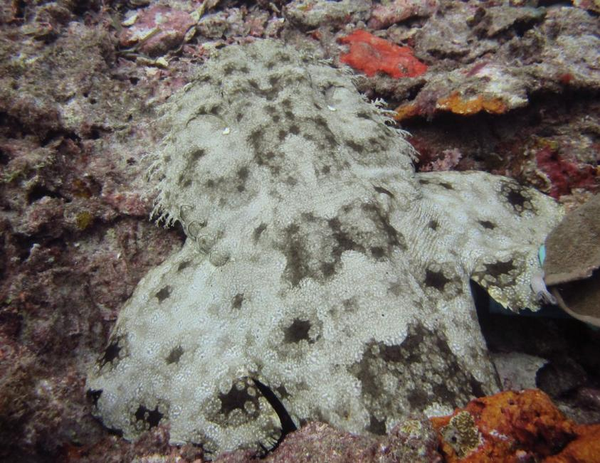 Wobbegong Shark
The diving form of the Raja Ampat Island is mainly the Liveaboard, the diving boat as a mobile hotel on the sea, can reach a wider sea diving.Unlike the steel-hulled cruise ships you're familiar with, the most beautiful dive boats on Raja Ampat Island are vintage wooden sailboats: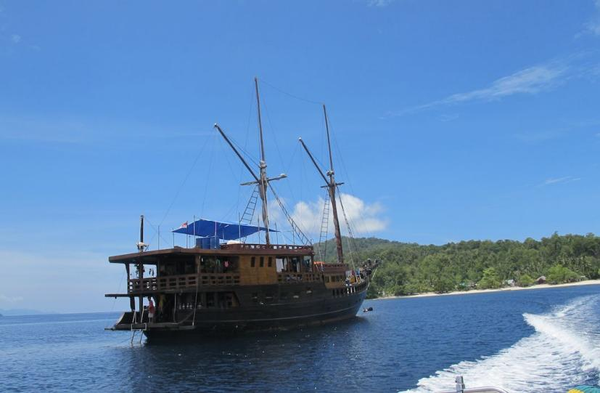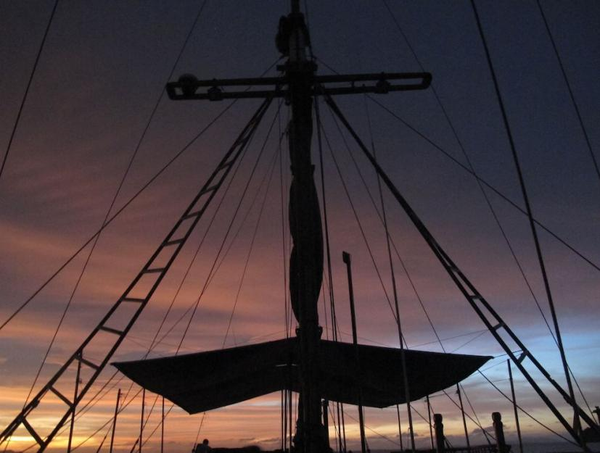 Each boat hosts only about 10 divers, with exclusive services from dive guides and restaurant staff.A boatnight at Raja Ampat Island also offers a unique experience: crossing the equator.It should be noted that the wind and waves are very strong when crossing, and be careful of seasickness.
Cost:About $400 a day
Transportation: Fly to Sorong and board Liveaboard.
9. 
Palau Kakaban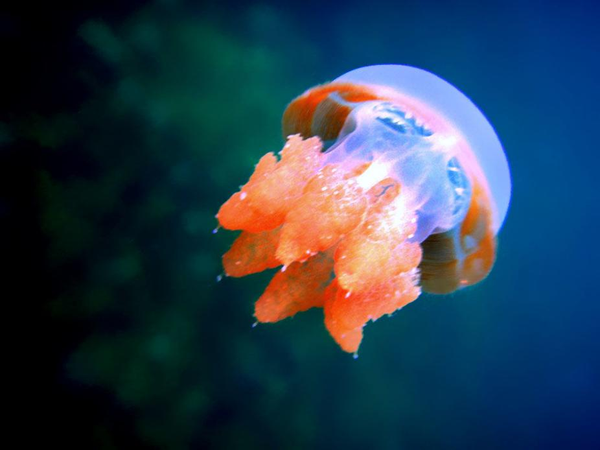 Non-toxic jellyfish
The world's most famous non-toxic jellyfish lake is undoubtedly the one in Palau, while the one on Palau Kakaban, a small island in Dara Bay, Indonesia, is less well known.Despite being one of Indonesia's most popular dive sites, Dara Bay is inaccessible, especially to non-divers, so only a few people can enjoy the beauty of Palau Kakaban's non-toxic jellyfish lake.Miraculously, there are four species of jellyfish in the lake, all of which contain toxins that can attack their prey but are harmless to humans.With no heavy scuba gear on your back, jump into the lake to snorkel or free dive, and when the sun is shining, you can take fantastic photos.
Cost:$50
Transportation:Arrive in Balikpapan, then transfer to Berau, then take a boat to Derawan.
10.
Boracay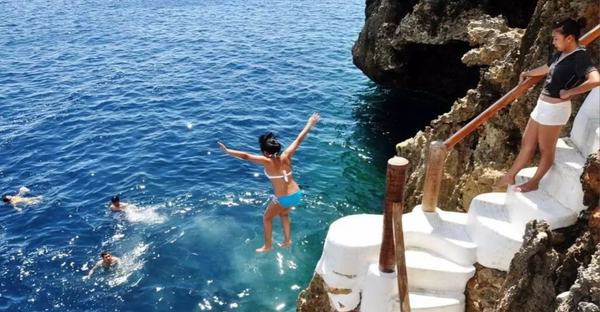 If you want to experience something different in Boracay, what comes to mind is cliff diving!How much fun is the cliff diving experience?Some even put the experience on a "must play in a lifetime" list.Boracay has many cliff diving spots, of which Ariel's is the most popular, like a gazelle leaping into the sea, with challenging heights ranging from 3 meters to 15 metersDon't pass this fun experience just because you're afraid you can't swim. Don't be afraid to jump into the ocean!There are professional diving teams at sea to protect you.
Cost:$50
Philippines
11.
Coron Bay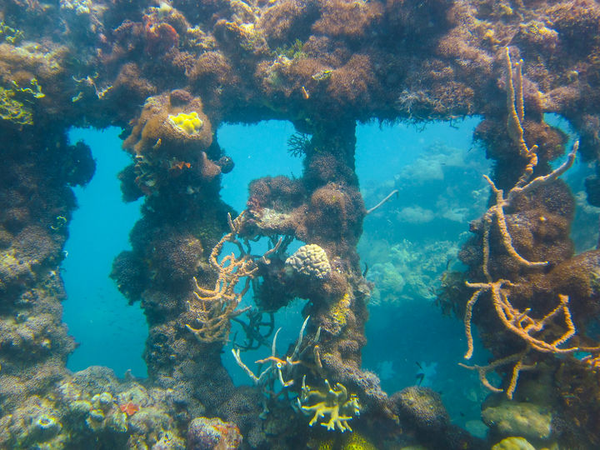 The Palawan Islands have been called the Philippines' "Last Secret Land".The small town of Cologne, north of Palawan, is home to 14 sunken ships, including nine Japanese World War II ships, that sank in Cologne Bay and around Busanga Island, and is known as a shipwreck diving mecca.There are no transparent waters or colourful coral reefs, but entering the "Underwater Military Museum", sealed by more than half a century of water, and marveling in the dark and enclosed space, is the experience of a lifetime for shipwreck fans.
Cost: $100 for 3 dives per day (including equipment)
Transportation: Fly from Manila to Busuanga, then transfer to Coron town.
12.
Palawan Islands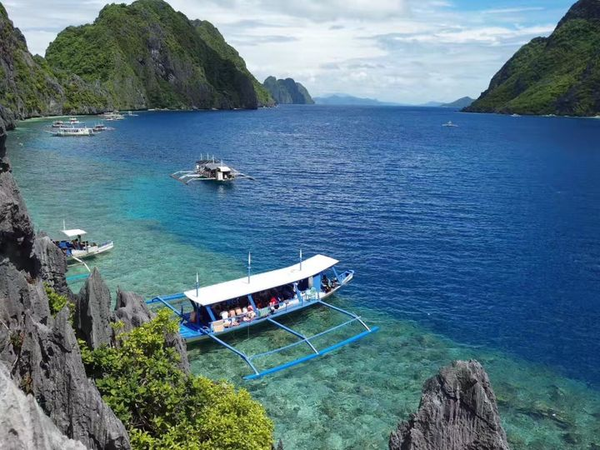 Located in the southwest of the Philippines, the Palawan Islands are an undeveloped and by far the most ecologically well protected area in the country.With 1,800 small islands, Palawan is one of the best places to go if you're looking for a quiet, stunning island.There are many famous islands, such as El Nido, a popular snorkeling paradise, where you can swim with fish, and Coron, where you can scuba dive.Most of the dive sites on Eini and Colon are coral reefs, so socks and gloves are recommended when diving.
Cost: Around 1,500 pesos per person.
Transportation:Flyto Manila, then transfer to domestic flight to Puerto Princesa, the capital of Palawan, and then take a boat to various destinations.You can also reserve one day at the port to participate in the half-day tour of Puerto Princesa Palawan.
13.Olsob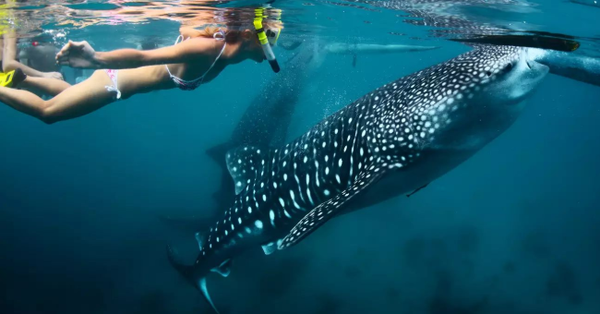 Olsob is a name we would probably never have heard of without whale sharks.But the mere fact that you can get close to whale sharks year-round by snorkeling or cruising on a boat is enough to entitle tourists to make a special trip.Whale sharks are used to coming here to feed every morning.Take a Filipino crab boat to the deep ocean and wait for the giant of the ocean to come.If you're good at swimming, it's best to jump into the ocean and dance with a whale shark.Although the whale shark is docile, but also do not touch the whale shark or provocation, nor can the sunscreen pollution of the sea water, damage the ecological environment.
Cost:At least$20
Transportation:Take Tutu from Duma Gadi urban area to Sibulan wharf (100-150p) and then take a boat to Olsob.
Thailand
14.
Koh Tao
Getting a diving license is your ticket to a wonderful undersea world.The island of Tao, in southern Thailand, is on the minds of divers all over the world, even though it takes several flights and boat trips to reach it.It is almost an assembly line that produces a large number of licensed divers every day, and is called the "World Diver Manufacturing Factory".In addition to having rigorous curriculum standards and teaching atmosphere, the course price is generally cheaper than elsewhere, is a famous diving resort.The chance of encountering a whale shark is high at White Rock on Koh Tao.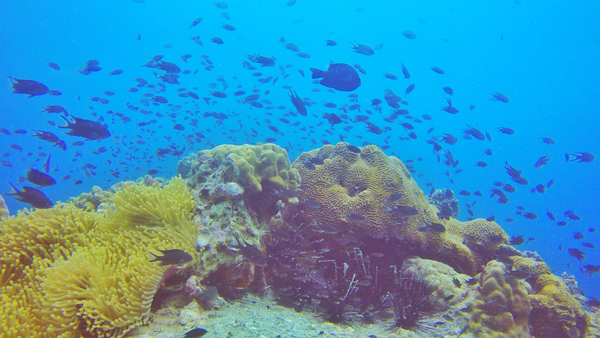 Transportation:
A:International flight to Bangkok, from Bangkok by ferry to Tao Dao.
B:International flight to Bangkok, transfer to Thailand domestic flight from Bangkok to Chumphon, then take a boat from Chumphon Wharf to Tao Dao
C:Fly to Koh Samui by international flight from Koh Samui to Tao Island by boat.
15.
Similan Islands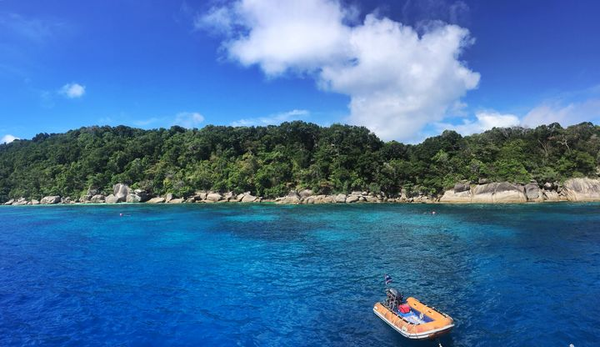 When you become a certified diver, you can try a new type of travel -- boatboarding. This is where the diver has room and board on the boat and is able to go far offshore for intensive diving activities.Among them, by 9 islands, Thailand National Marine Park Similan Islands, which is protected by the diving tourism mainly to boat diving tourism, biodiversity is very rich, no strong winds and waves, the dive point is not difficult, the most suitable for primary divers entry level boat diving.
However, due to the rainy season, the Smilian Islands are only open to the public for six months from November to May.Non-divers can join a day of snorkeling at one of the popular dive sites in the Similan Islands.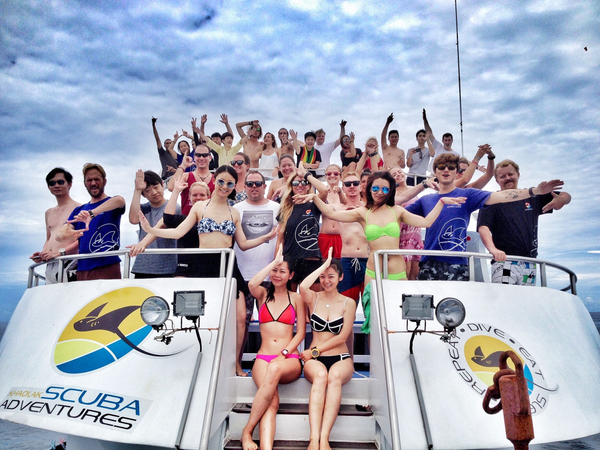 Cost: Sleepover rates vary depending on the luxury of each company's boat and the length of the route.
Transportation: Boats to the Similan Islands usually board at the docks in Phuket, Thailand, or the nearby town of Khao Lak, depending on the location of the boat company.
16.Koh Lipe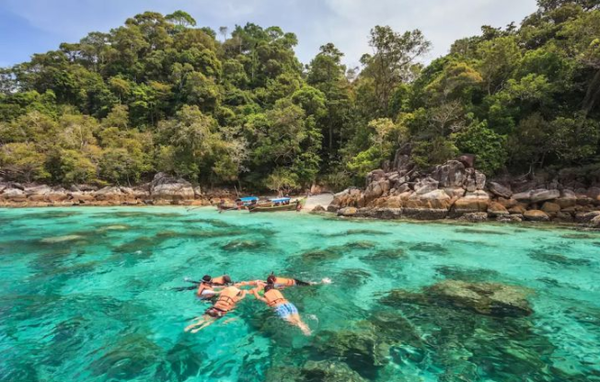 The disadvantage of late development and inconvenient transportation of Koh Lipe is just the biggest advantage -- it retains the original taste of South Thailand, and is called "Thailand Little Maldives". There are few tourists, and there is a high-quality snorkeling environment rarely seen in Southeast Asian islands, where you can not only see beautiful coral and fish, but also the adorable clownfish.
If you want to experience a more stunning alternating light and shadow diving experience, you can choose to participate in the Koh Lipe sunset snorkeling, after enjoying the sunset, the whole undersea world is another scene, the glowing plankton make the whole undersea like a dream.
Cost:Free
Transportation: you can buy Asian air, sea, land and air transport from Bangkok, fly to Hat Yai, then take a car to the dock, and then take a boat to the island.Each trip takes about 1.5 hours.It can also be reached directly by boat from Langkawi during peak season, requiring visas from both Thailand and Malaysia.
17.Samui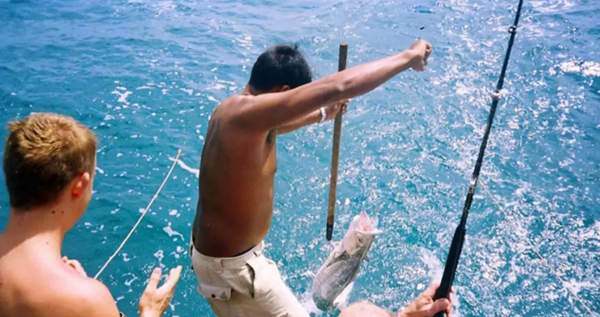 As one of the "four noble sports", sea fishing has a history of more than one hundred years.
Sea fishing requires expensive equipment, boats and fish preservation, making it an affordable activity for the aristocracy in the old days, but it doesn't have to be so expensive to experience the fun of sea fishing on Koh Samui.Not only the cost is not high, the farther the sea from the island, the bigger the fish, the sea scenery is also charming, if there is a big fish on the fishing, the excitement of the moment enough to ignite the excitement of the whole boat.If you have more courage and energy, and want to experience a more unique sea fishing experience, you can also join the night fishing, explore the sea to the south of Sumei in the dark, perhaps, the night fish will be more special.
Cost:$50
Transportation:Take International flights to Koh Samui
18.
Thalane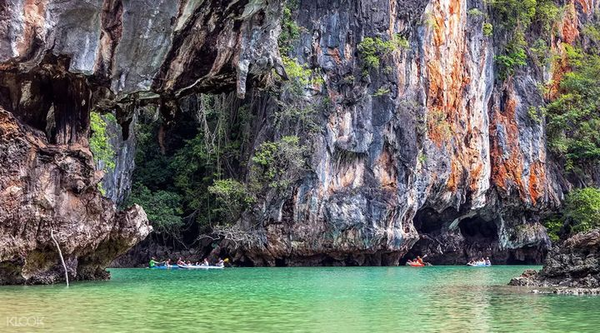 In addition to the heavenly beauty of the tropical islands, Krabi is also full of primitive mountain caves and tropical forests. In addition to snorkeling in the sea to see the Marine life, you can also paddle a boat to the tropical forest to see the small animals on the shore.
Sit on kayaking, sliding paddle, marched on the clear water, heading to the tropical forests, the shore, there will be a lovely monkeys may also encounter water mud goalkeeper, crab, shellfish, also through the stunning cave, along the way will make you sigh here a milan tower tropical charm, has a sense of tropical adventure both visual points minutes.
Cost:$50
Transportation:Take International flights to Krabi.
Are there so many islands in Southeast Asia that you yearn for?Take advantage of the holidays to see more of the outside world.You will discover the wonder and greatness of nature.Plan your vacation this year now!