Taking off our coats, we could finally get some air out of our necks and arms.Maybe you are looking for new swimsuits and update your wardrobe.Whatever bathing suit you decide to wear in spring and summer,It's just part of what you wear for a beach vacation.Wear less clothes and have more swimsuit accessories. The best choice is stylish and sexy accessories and jewelry.Accessories or Jewelry is always a girl's second dress,It's also the best thing to invest in yourself throughout the year.Whether winter or summer is a plus for the overall look.scroll below for the most fashionable accessories that will make you look cooler when you go to the beach.
#1.Earrings
Earrings are one of the most difficult accessories to choose.The key to choosing the right earrings is to know our face shape,Just like choosing the right swimsuit depends on our body shape.There are many kinds of earrings, but if we use them with our swimsuits we should go with something simpler.These two styles will not be out of fashion for several years:

1.Metal earrings
Metallic earrings are one of the hottest items this year.
Round earrings are hot in 2020, paired with a simple bikini.Neither too conspicuous also has a sense of presence, all kinds of styles can be used.It doesn't matter if you wear it with a one-piece swimsuit or a bikini.So I highly recommended as a must-have look this year,and fashion bloggers are almost all in pairs.Round earrings not only flattering, but also retro.Pick it right now!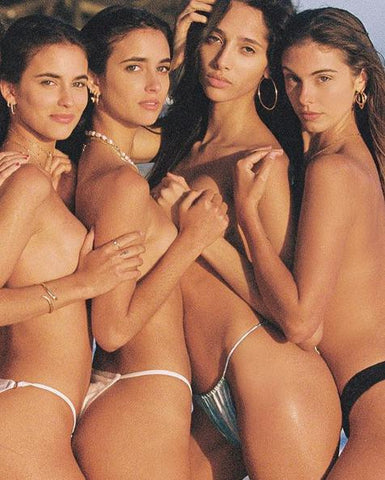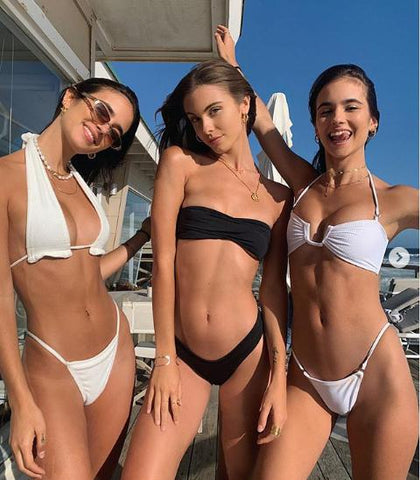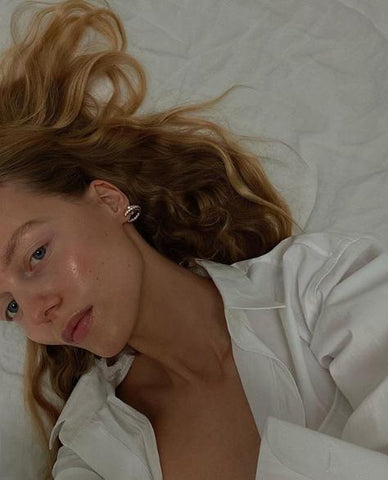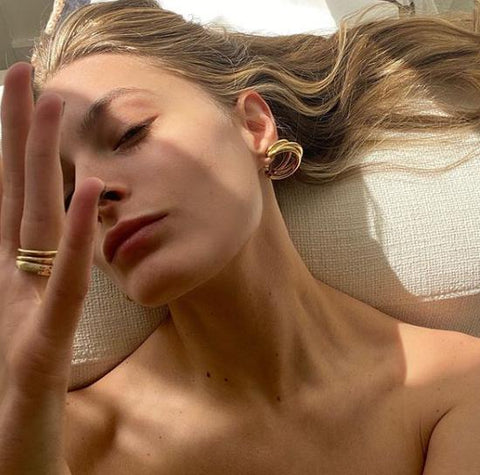 2.Pearl earrings
Pearl material jewelry in recent years in the fashion industry for a long time, the former pearl material accessories to our feeling is noble and elegant.But in this year pearl jewelry no longer only has simple design, still fluctuant actually all sorts of complex diversiform modelling is used at tie-in swimsuit,more to reflect the retro and personality.Pearl earrings can also be seen in many fashion bloggers' swimsuit accessories photos.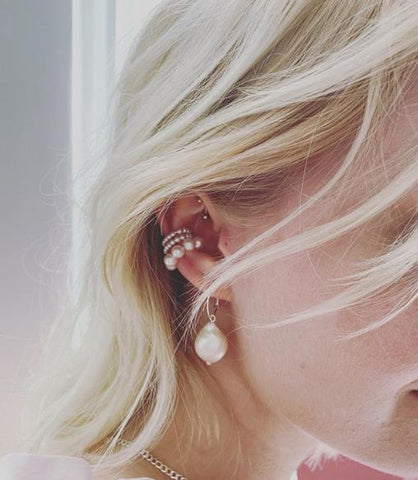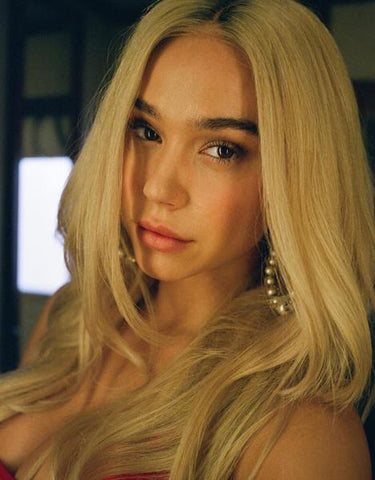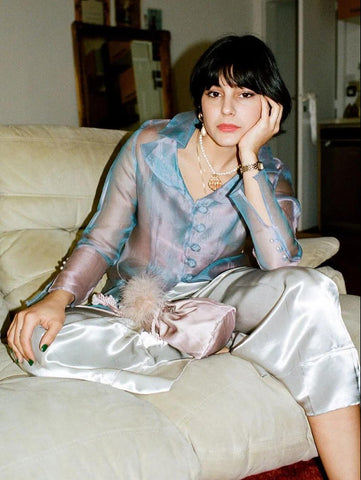 3.other style
In addition to metal and pearl jewelry that can be worn with our daily swimsuit, many special styling accessories are also popular.If you're fed up with earrings with the same shape, there are also other special earrings can make you stand out from the crowd: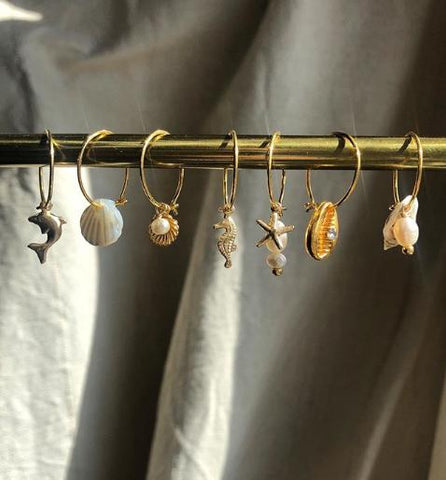 Cute shell earrings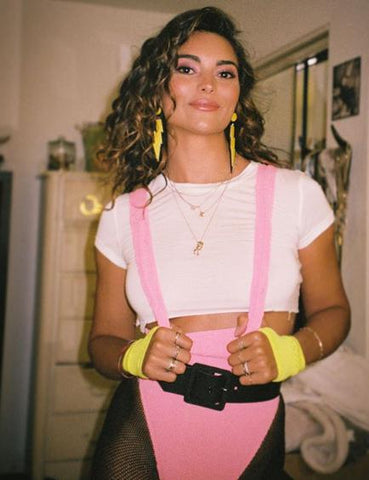 Exaggerated lightning earrings
#2.Necklace
"Fashion passes, style remains." said Coco Chanel.From this point of view, style is more fashionable than fashion.Necklaces are essential for you who love fashion.Necklaces, like swimsuits,Choosing the right one for yourself is the most important thing.If you have a short neck, don't choose a short necklace.Try to wear a smaller necklace with your swimsuit.These two necklaces can't go wrong:
1.Golden Necklace
If you have many gold necklaces of varying lengths, try folding them.The key to stacking necklaces is the layers created by the differences in length and thickness between several necklaces,Line up the necklaces in U and V shapes to make your neck look longer,Especially if you choose a bikini.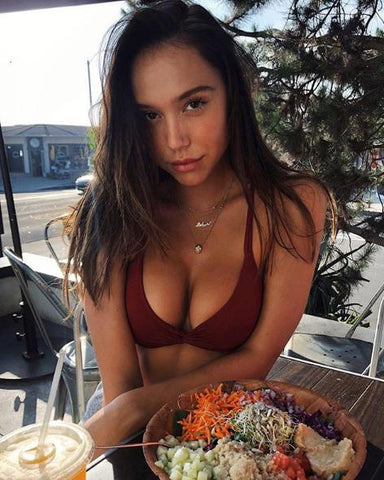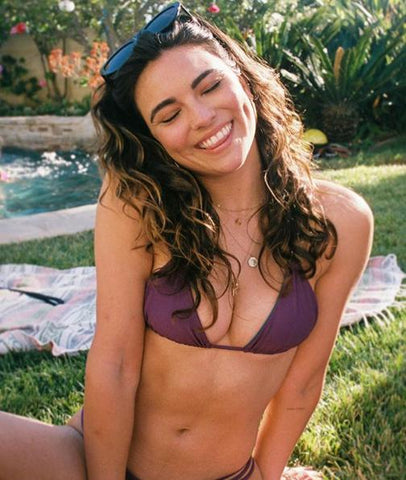 2.Chokers
A Choker is a short, neck-hugging necklace that sits above the collarbone and fits tightly to the neck like a collar.Its popularity peaked in the 1990s.Matilda became a classic of her time with this iconic ribbon necklace.But now the '90s look is making a comeback, taking the fashion world by storm.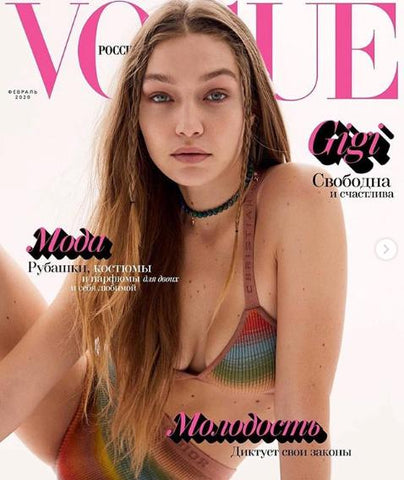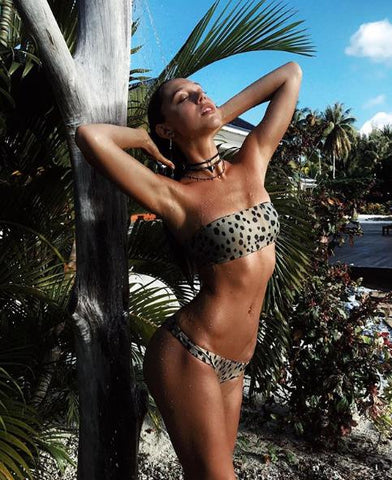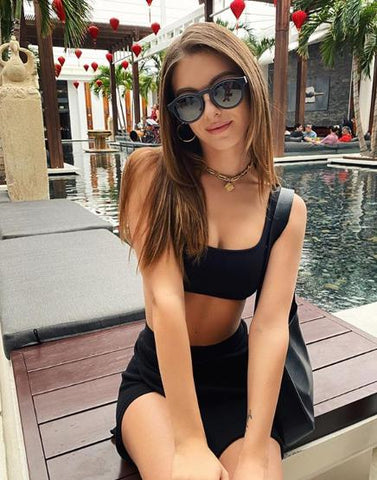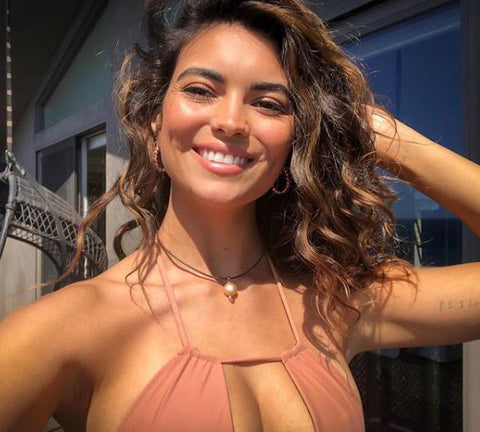 #3.Rings
A pair of delicate, slim necklaces, folded together with a bikini, will flatter an empty neck and lengthen our lines.As a jewelry accessories lover, in addition to earrings and necklaces, how can there be less ring embellishments.Today's rings are not as limited as they used to be.You can also use it as a decoration on your swimwear,which can make you look more fashionable.So how do we choose and match?Read on.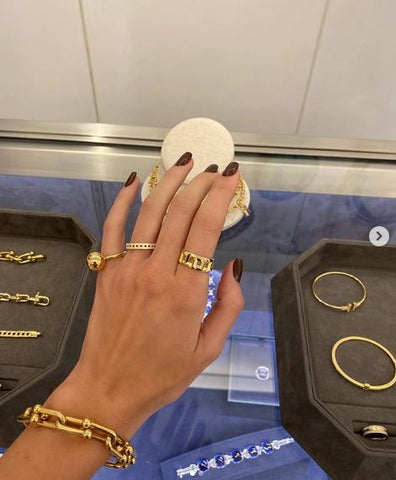 Hands are hard to spot if you're wearing only one ring, so if one isn't enough, wear more.Necklace fold can lengthen the neck line, ring fold is also in recent years very popular collocation.
1.The basic folding way
Ring folding is not to ask you to put all the rings from the drawer into the finger, also according to the way to fold wearing collocation.Fold to wear commonly in ring finger, middle finger, index finger 3 fingers are much, little finger can add according to the circumstance and oneself hobby.If you are going to swim,you'd better not to wear.It is easy lost when you get out of the sea or pool.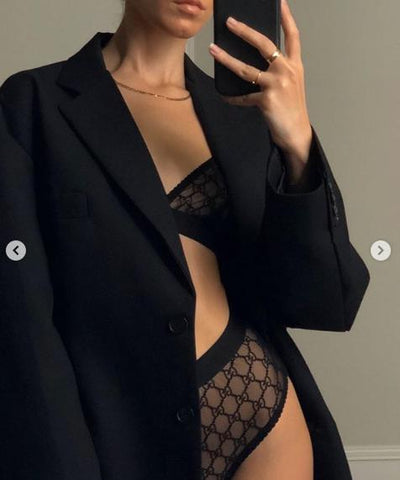 2.Simple collocation
Less is more.The simpler the style, the more flattering your swimsuit will be.If you are green hand,you can choose plain simple, thin rings,and limit the number of rings to three or four.It's not easy to go wrong.Remember as swimsuit accessories.Don't take a valuable ring to the beach, or it will be hard to get it back.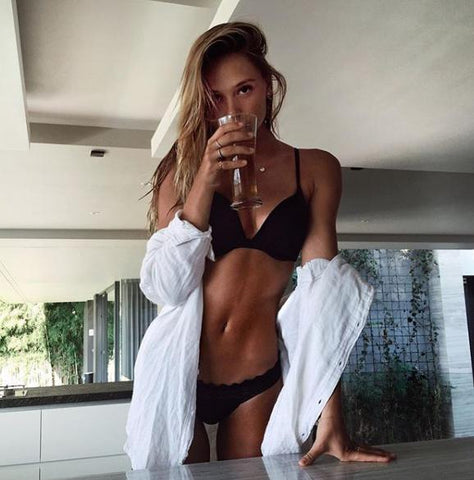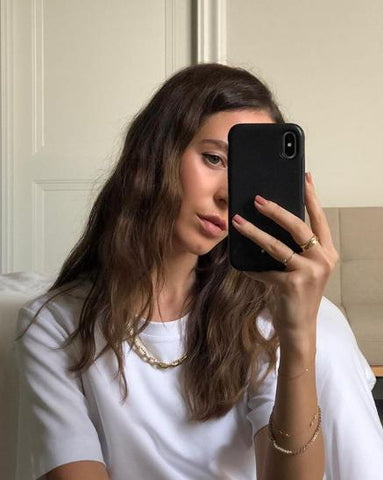 #4.Body Chains
Nothing catches the eye like a body chain when you're walking down the beach in a bathing suit.When it comes to body chains, the history goes back to ancient Greek and Roman art.Traces of body chains can be seen in some of The Paintings of Venus, which served as the best ornament for some aristocratic women.To this day, body chains are still popular with many people in particular when they wear bikinis as a swimsuit accessories.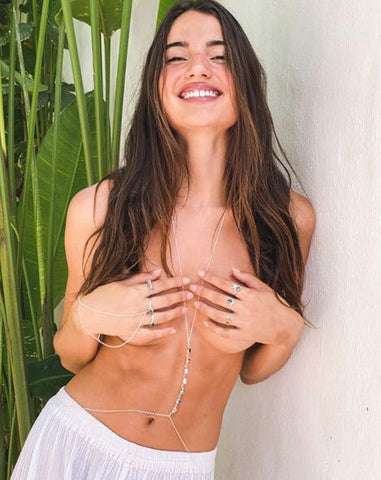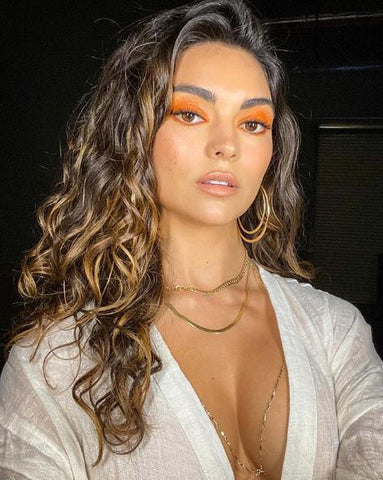 Compared to other ornaments with stronger effect of accessories, body chain can also play the role of modifying the figure curve, even if it is common and simple style collocation can also give instant feeling.Choose the body chain must fit their body type, so as to better foil their figure.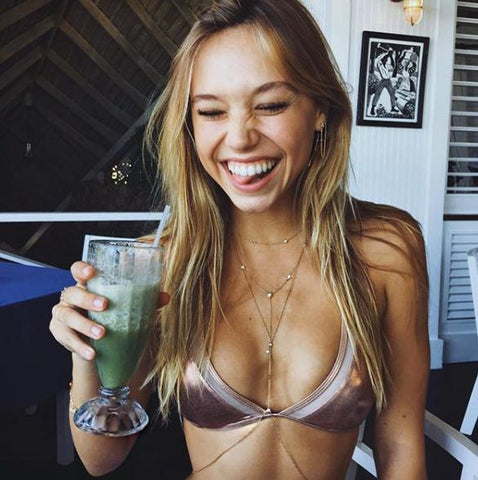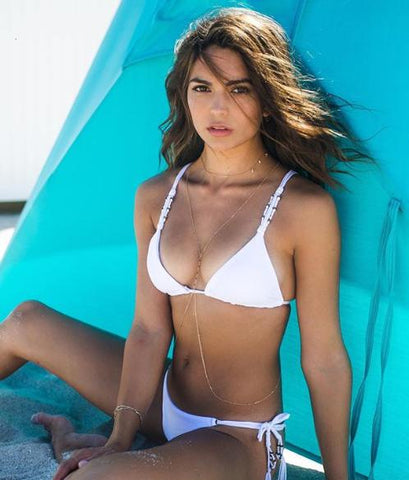 Summary
Choose accessories and jewelry that suits you and match your swimsuit.If you have a colorful bathing suit, opt for basic accessories.If your swimsuit is simple, you can also opt for bold accessories to show off your personality.Remember that swimsuit accessories is only used to match your outfit and highlight your style.The most important thing is to believe in yourself!
🎉🎉🎉🎉🎉
You get a 22 percent off discount code for forwarding a comment.
After receiving the product, leave a comment.You get a $5 gift card.
You can use it for your family,friends and yourself.
This activity is valid for a long time, please contact us by email or IG
(iyasson_official) for collection.