The rich and colorful sea always contains endless fun, but also the children's unlimited love and vision.Summer is coming, there must be mothers who want to go to the beach with their children.A beautiful parent-child swimsuit can not only promote the relationship between family members, but also attract many people's eyes on the beach.Although parent-child clothing is loved by many families, the quality of brands on the market is uneven, the price is also widely different,So how do you pick parent-child swimsuits?Don't worry,today let's pick some parent-child swimsuits for your family.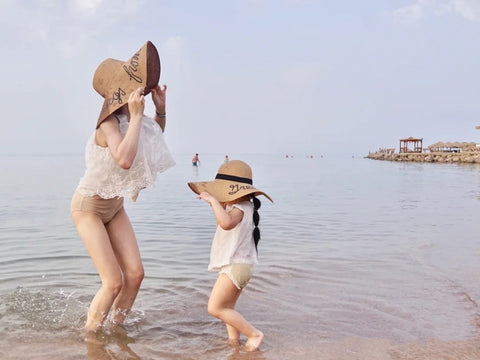 cute
Pink is one of woman's favorite colors.No matter how old we are, we can't escape the temptation of pink.Pink makes the endocrine system more active, wearing pink clothes makes people happier.For little girls, wearing pink clothes makes them look like little princesses.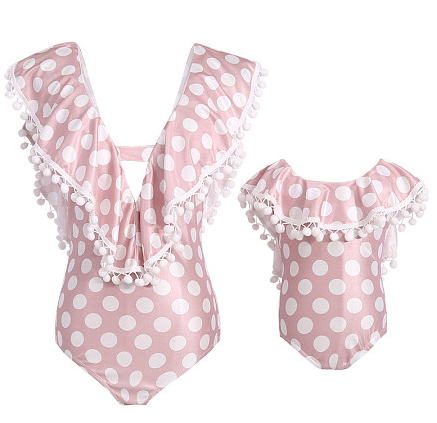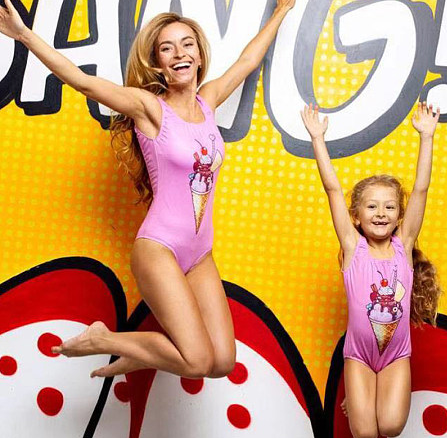 These pink swimsuits make us look years younger.Smooth fabrics will not harm the skin.Wave point design is never out of date.Triangle swimsuit elongate the lines of the legs.The ice cream print gives life to the swimsuit.You will be the cutest and niftiest family on the beach when you wear these swimsuits.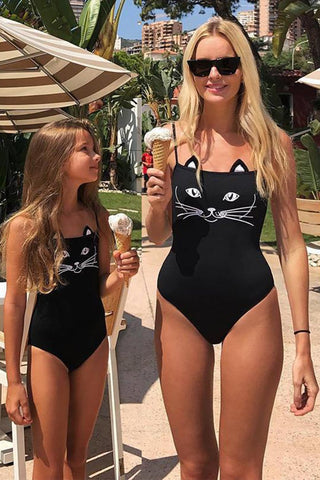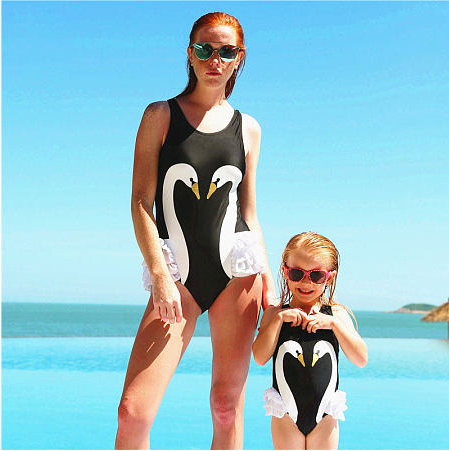 Of course,Cute swimsuits aren't all pink.Just like these,black swimsuit with animal pattern can also make you look cute.Animal prints are a big trend this year, it catering to the fashion trend.And generally speaking, children also like small animals very much.
Casual
Casual parent-child swimsuits are great for family trips, also be the choice of the vast majority of families.It can be accessorized in this style and is more suitable for seaside photos.So you must pick a casual swimsuit for you family and yourself.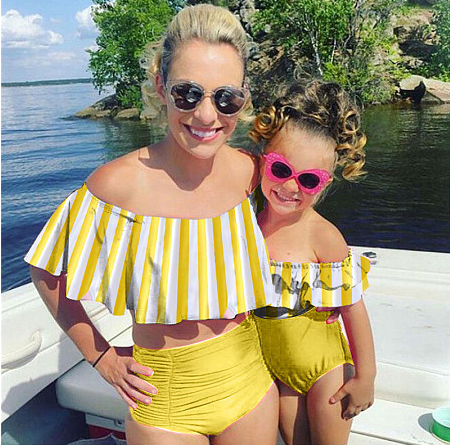 Two-piece swimsuit is easier to wear and take off than one-piece.
So it is more convenient for your child.Yellow and white stripes make you look more energetic.Bright colors no longer drown you in the crowd on the beach.The high-waisted pleats work well to cover your belly.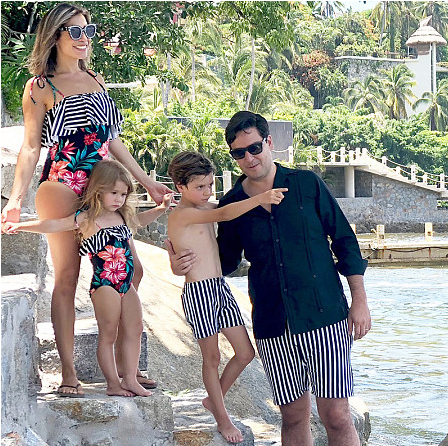 If you don't like bright colors, black and white are perfect for you.The print at the waist makes the swimsuit look less ordinary.Not just mothers and daughters, but fathers and sons.
Vintage
Fashion is a circle.In recent years, people are more and more advocating the vintage style.Vintage swimsuit emphasize curves,and it can polish shape well.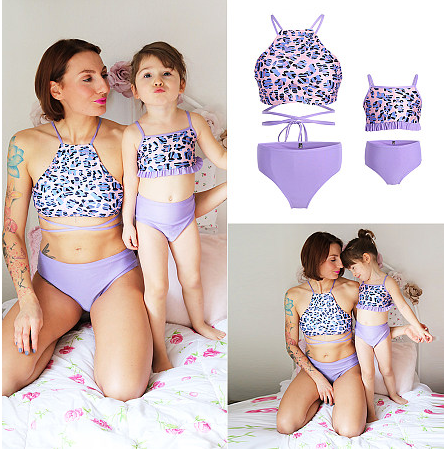 Leopard print is a magical element, as long as you use a little bit, can be very brilliant.The top of this parent-child swimsuit has elements of leopard print which add a touch of fun.Purple adds to the mystique of this swimsuit.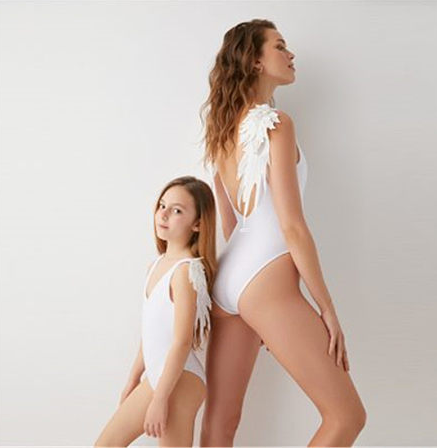 The most popular style in America this year is "high-cut + Open back + Big Armhole".The high-slit style creates the illusion of unconsciously raising the waistline and making the legs look longer.Backless looks sexier.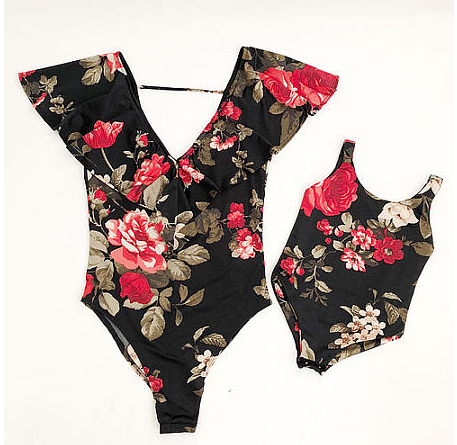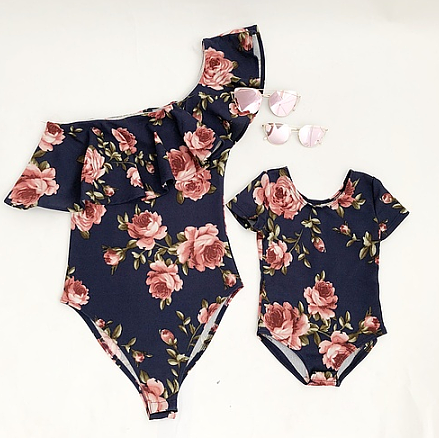 Floral prints swimsuits are also well worth choosing.
Sporty
Many women are more conservative and don't dare to wear too sexy swimsuits.Of course, too sexy swimsuit is not for some kids.
So you need a sporty swimsuit.
The white coat looks very clean and leaf-printed swimsuit adds energy. The high waist bottom of our family bathing suit can offer a good coverage and stretch for your girl.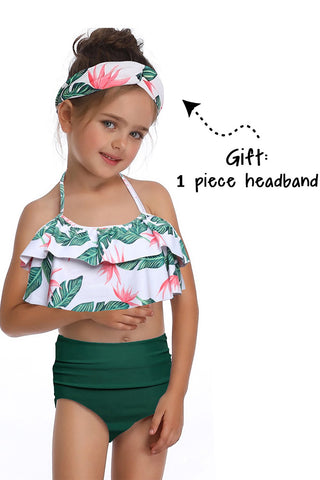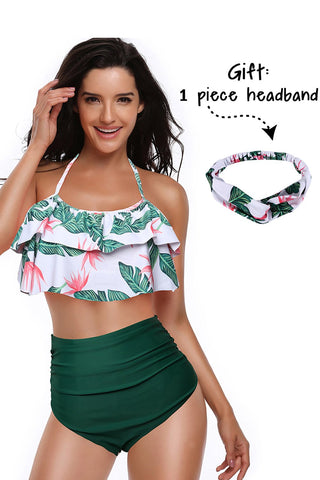 And there is another color of family bathing suit.Floral print tops and dark green high-waisted swimming trunks makes you look youthful.
sexy
The advantages of black swimsuit are too great.First, black makes you look thinner.In addition to being slimmer,it looks great on all skin tones. And black is the symbol of sexy.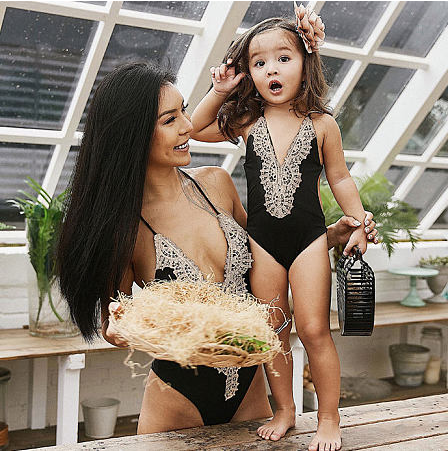 Thin shoulder strap, deep V design and hollow out of the waist will show off your perfect figure. But the child's is not so exaggerated design.The embroidery on the chest adds a distinctive flavour to the swimsuit.It make swimsuit looks less monotonous.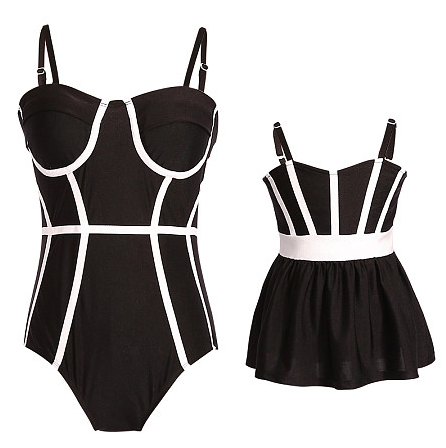 Not all parent-child swimsuits have to be the same.Some different style swimsuits can also be used as parent-child swimsuits,just like this parent-child swimsuit.Mommy's is a triangle design and elongate the legs.Children's is the skirt, more secure.But they both designed with white lines on a black background.It looks the same, but it's different.
Do you like these 5 style of Parent-child swimsuits?
There are also many Parent-child swimsuits.
Which style do you like best?
What kind of Parent-child swimsuit will you pick?
Leave a comment below.