Spending time at the beach is one of my favorite summer activities, and so are you?Put on a favorite bathing suit or bikini, then grab a beach towel and sun hat and head out to the beach.Lie on the beach and enjoy the sun and have fun on the sea.What a joy it is!But have you paid attention to your makeup?specially in the hot summer.If you want to take your beautiful pictures on the beach, then maybe you need a nice makeup.So today I'd like to share 5 tips for beach makeup.In order to make you look pretty and can have a happy day on the beach,please keep reading.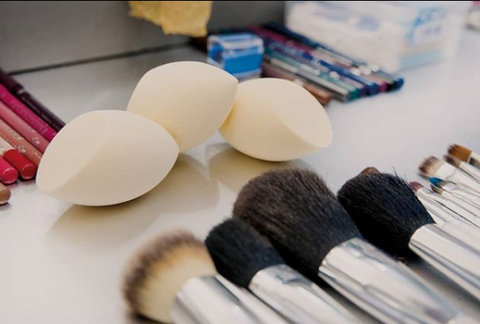 Can I wear makeup to the beach? 
If you want to look pretty,you can wear makeup before you going to the beach.But on hot summer, heavy makeup can be uncomfortable.The right makeup will make you look more energetic.In this way, you will be in a much happier mood to enjoy the holiday.So don't resist wearing makeup on the beach.
How to wear beach makeup?
1.Sunscreen is a top priority
Whether you're at home or outside, apply a layer of sunscreen immediately after applying moisturizer.It protects your skin from UVB and UVA rays.If you're going out, apply it 20 minutes in advance so it works.If you are exposed for a long time, you need a sunscreen with a higher SPF.The FDA says you should reapply sunscreen at least every two hours.If you go swimming,wear sunscreen immediately after drying.Of course, sunscreen should be applied before makeup.Rest assured, it won't disturb your makeup.
2.Keep simple
Daily makeup may require a large number of beauty products,it could be a good idea to pare things down for a day at the beach.In a damp environment, heavy foundation or concealer can stain your face.So, a simple makeup look is better on the beach.That way, you don't have to worry about your makeup.
3.Base makeup
If you need to cover a blemish,use a concealer or foundation with high concealer power.Sparkling liquid makeup may end up making you look greasy,Apply matte bronze to give off your artificial glow on the beach.To freshen up your look, try applying a light blush to your cheeks.
4.Use Waterproof Products
Don't let the water and sweat stop us from playing and taking pictures.With waterproof products, you can enjoy your vacation to the fullest.Apply waterproof mascara and eyeliner, and your eyes will instantly magnify several times.It's best to also test concealer or foundation to see if it's waterproof before using it.Ordinary lipstick will not rub off easily in water, but try to use matte lipstick or lip gloss. Because glossy formulas will slide right off in the heat.
5.Don't forget the makeup products
  After completing your makeup look,make sure to use a setting spray to lock it all in,Or you can use Face Blender with loose powder press on your cheek gently to remove excess oil and makes sure that it will last longer.Remember to put your pressed power or blotting Paper in your bag before you go out.
Enjoy your beach vacation
When you have your makeup on and the necessary makeup ready, can you enjoy the beach?Please don't forget to bring your beach essentials:elaborate bikinis, beach towels, sun hats ,sun glasses and so on.If you haven't found a bikini yet, we have a great selection of vintage High-waisted bikinis .Until then, enjoy your beach vacation.