When it comes to women's swimsuits store, you can find tons of name brands in your mind. But if your friend Kim asks you where she can shop swimsuits for her and her daughter,  then you are suddenly stuck.
Yes, it is not easy to find a store or website online to buy baby swimsuits or kids bikinis, especially if you want to buy family matching swimsuits. That is why I write this article today. I will name 5 swimsuit brand website and recommend several unique style for you. You will find more mommy and me swimsuits after you learn more.
1. Iyasson
Are you cat lover? Are you daughter lover? Both yes? Then you come the right place.
Iyasson consider all that for you. Whit this sweet cat pattern swimsuit, you and your little girl will be the shinny star on the beach crowd.
Black color fit every skin color. It is stretchy with adjustable shoulder straps. Padding bra will give you safe feeling. Click here to shop Iyasson.
2. Albion Fit
We love our Albion Fit mommy and me swimsuits. And you know, it was super hard to find mommy and me swimwear that was actual swimsuits! We've got the pink off shoulder set. They even have a variety of options in each print -- high waisted swim bottoms, one piece swimsuits for moms and kids and so many styles that are all so flattering! And they've got matching dad and little boy swim trunks too.
3. PatPat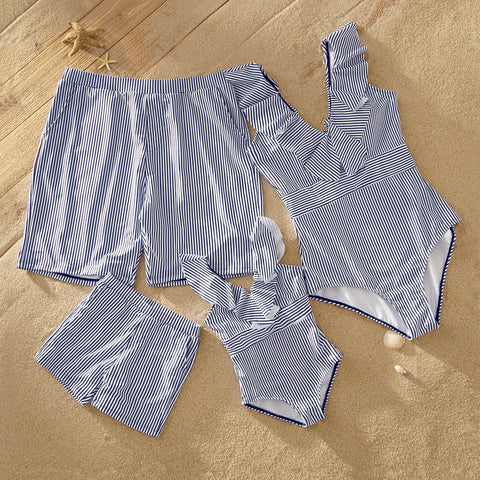 These mommy and me one piece swim suits are so incredibly darling and while they are one piece swimsuits, I actually feel sexy in it! Stripe is always my favorite pattern. Blue is my color. The swimsuits is made for me, what is more, my husband and my little girl could wear same as me. I can not wait for the coming beach summer.
More info:
PatPat focus on Baby Toddler Kids clothes. THEY HAVE MATCHING KIDS SWIMSUITS TOO!
4. SHEIN
This is another mommy and me swimsuit brand that is totally on my list of suits to buy. They're next up because I die over every single suit they come out with. And they've got so many styles for every single body type -- super modest mom bathing's suits do but they're so cute and so fun and I just love that about them.
More info:
SHEIN mainly sell women's clothing at the very first time, they begin to sell men's clothes, kids clothes when the company grow up big. Now SHEIN not only sell clothing, but also shoes bags accessories and jewelry. They have thousands of styles to choose, all items are very cheap. You could get a swimsuit with 10 bucks. Of course you need pay extra shipping fee.
5. CUPSHE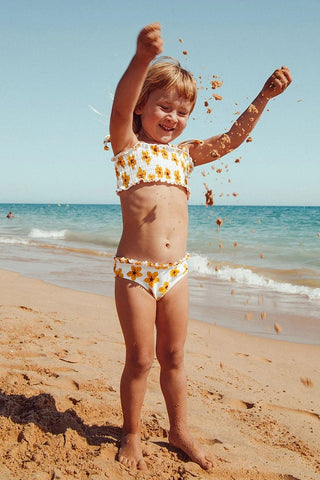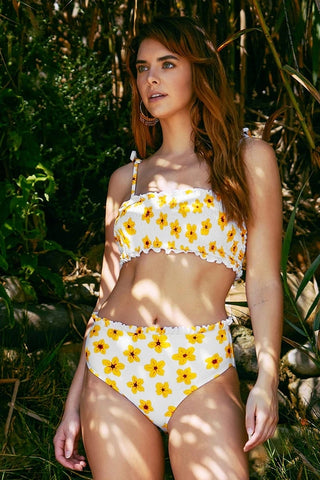 Kid's bikini set: Golden hour and island time meet in the Yellow Mini Smocked Bikini For Toddler Girls and Girls. Bikini top is a smocked bandeau silhouette finished with dainty ruffles. The matching bikini bottom has ruffle trim at the the waistband.
Mom's bikini set: Be in a summer state of mind in our Yellow Mini Smocked Bandeau Bikini set. Bikini top is a smocked bandeau silhouette finished with dainty ruffles. Matching bikini bottom features a high waisted silhouette with ruffle trim at the the waistband.
More info:
CUPSHE is a new women's swimsuits brand. They focus on young women. The price is cheap, the quality is not the top. You could find some plus size bikinis or swimsuits. Mommy and me style swimsuit is new on the site.
6. BIKINI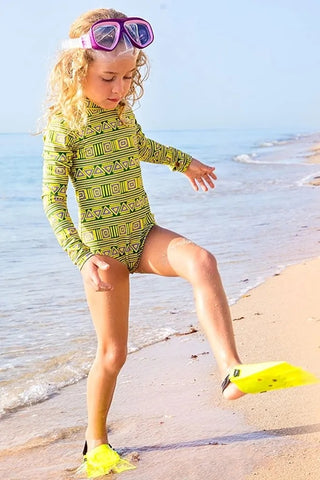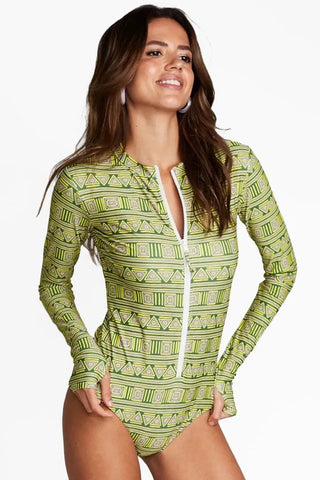 If you do not want to show much skin on the beach, absolutely you should check this one. Long sleeve with high collar for kids, and zip front for women with pattern print.
BIKINI was my first ever swimsuit and let me tell you, I fell in love immediately! The quality is amazing (price is not cheap), they are so incredibly flattering and guess what? They even have little boy suits to match mama too!