There can be no doubt that if you want to take a holiday to wear high-waisted two-piece swimsuits.It will be the best partner of your vacation whether take swim or take a photo.
   two-piece swimsuit just like a bikini,In May 1946, Parisian fashion designer Jacques Heim released a two-piece swimsuit design that he named the Atome,but it failed to attract much attention.
Jane Wyman
  While the name "bikini" was at first applied only to beachwear that revealed the wearer's navel, today the fashion industry considers any two-piece swimsuit a bikini.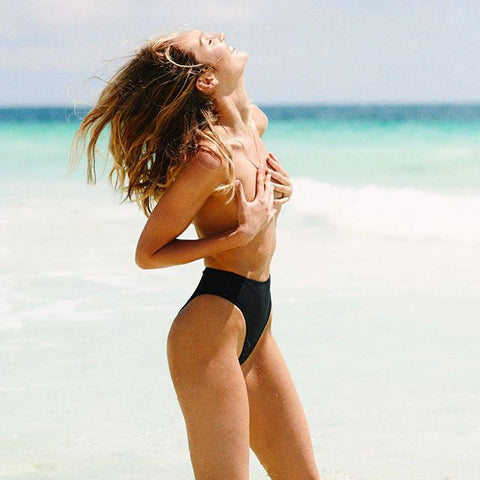 Anne V
The advantage of high-waisted two-piece swimsuits
  To compare with normal swimsuits,high-waisted swimsuits seem more suitable for the public.Because the design of the high-waisted not only safer,but also raise waistline.
  Of course,Choose which swimsuit want to wear,it's up to you!
The style of two-piece swimsuits
  There are many two piece swimsuits in the market at present.According to different materials,colors,styles and more,people is usually difficult to make a choice.Now let's take a look at stars how to wear and some popular high-waisted two-piece swimsuits.
Naomi Watts
  From this picture,we can see Naomi Watts wears a red-and-white-striped high-waisted two-piece swimsuit with a khaki windbreaker which makes she looks gentle and elegance.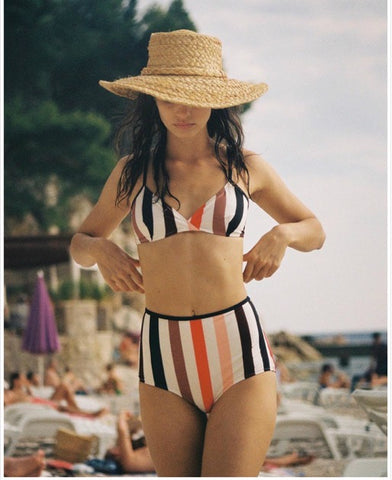 Luma Grothe
   It's also a high-waisted stripe swimsuit.Unlike previousone,Luma Grothe's colour fringe swimsuit looks more energetic and livelier.
  So in minimalist design, color selection hold a very important place.On the premise of the same style,different colors show different styles.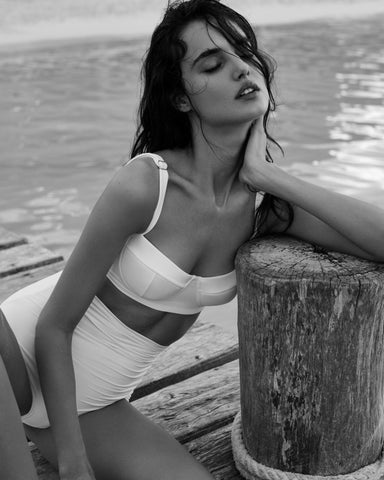 Blanca Padilla
  Although the picture is black-and-white,Blanca Padilla wears a pure white high-waisted two-piece swimsuit.Sometimes the simpler color and design,the more delicate you look.
There are also some unique style high-waisted two-piece swimsuits.For example: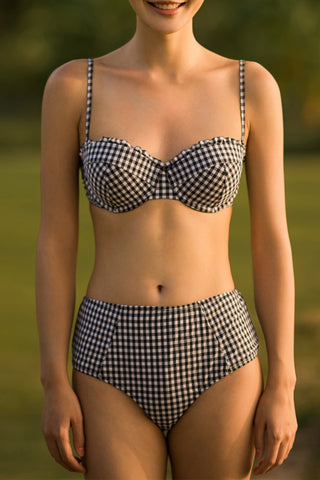 Plaid high-waisted swimsuit caters to contemporary style.Vintage is a constant trend.It seems that people pursue vintage every year.So this swimsuit will make you fashionable.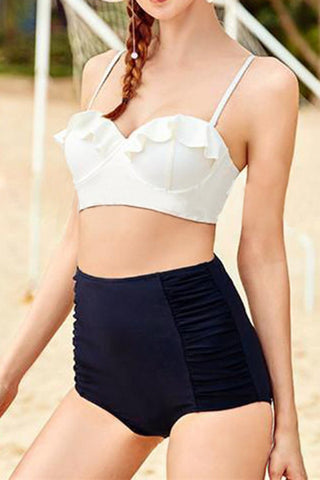 If you want to try mature style,wear swimsuit similar to this.Black high-waisted swimsuit bottomed and white simple top is both charming and  sexy.