Summer is coming earlier than you think,this means there is no better time to update your beachwear than right now. There are so many options on the market.But have you ever considered tummy control swimsuits?Many women loathe wearing a swimsuit because they feel shy or inadequate about their bodies. However, if this disturbs you, don't despair.Whether you're aiming for tummy control or want to create the look of contoured curves, your perfect summer style is just ahead.
Where can I buy?
Swimsuits with tummy control are available at retail stores and online boutiques.
Iyasson:Iyasson should be at the very top of your list when it comes to finding the perfect and cheap slimming swimsuit. Many other tummy control styles are available from iyasson, ranging from swimdresses to haltyer styles to cute and sexy .
The advantages of tummy control swimsuits
Slims the midsection, there by giving the illusion of a flatter stomach.
Shifts the focus of attention to other parts of the body, such as the hips, shoulders or bust.
It fits all body types.Swimsuits for tummy control are just like shapewear, but for the beach.
Shop the best swimsuits for tummy control
Women's One Piece V Neck Tummy Control swimsuit:the most popular tummy control swimsuit.This timeless style was loved by our testers: They said it minimized their tummies and waists and rated it better than other slimming swimsuits they've tried. You can choose from red or black.And there are five sizes for people of all shapes and sizes.
A swim dress is your best bet if you want to cover your hips and butt.This one from Iyasson is even more flattering thanks to its draping design, form-fitted shaping fabrics and subtle shirring at the hips and waist.The halter strap is crossed and adjustable.So you can find a good fit and good in bust support.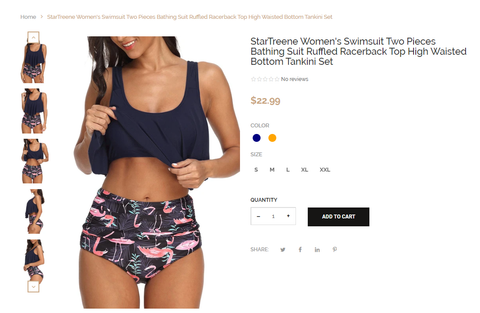 It's not an oxymoron: A slimming bikini does exist! Both pieces are made with a slimming fabric.
A two-layer top will better cover your chest and hide your belly.It's also flattering thanks to its tummy control and design: The deep blue top and flamingo print on bottom create a slimming appearance.
Don't like black?It' doesn't matter.We found you a vintage tummy control swimsuit for the moment. it had a visually slimming appearance and rated it higher than other styles. There's also removable padding and adjustable straps so you can find the fit that works best for you.
Floral prints are one of the most popular items in 2020.Orange printing adds to the fun of this tummy control swimsuit.This one is supportive and comfortable thanks to the high neckline, wide straps, built-in cups and full coverage bottom. if you prefer a more vibrant style,this may suit you.
💖💖💖💖💖
Everyone has their own characteristics. No matter what size a woman is and what areas she wishes to conceal, there is a swimsuit available that will make her feel both comfortable and stylish at the same time.If you'd like to shop more cheap and fine tummy control swimsuits,welcome to our website,there's always one for you.