When summer comes, everyone wants to go to the pool or the beach for a water vacation.For girls with small bust, choosing a swimwear is a big worry.In fact, there are so many different styles of swimsuits that you can find a variety of trendy swimwear that's perfect for those of us who don't have a big chest. Studies have revealed that the most common mistake made by women when selecting a swimwear was to choose too large a back band and too small a cup.To help you shop, we've rounded up seven of our favorite swimsuit styles and tips for small-busted women.
1.Colorful
Colourful swimsuit can let us have cheerful mood.For girls with small bust, brightly colored swimsuits can give a sense of expansion, such as red, bright yellow, orange and so on.Generally speaking, the girl with small chest, figure also slants thin.So colorful swimsuits can shift people's attention from the body to the swimsuit.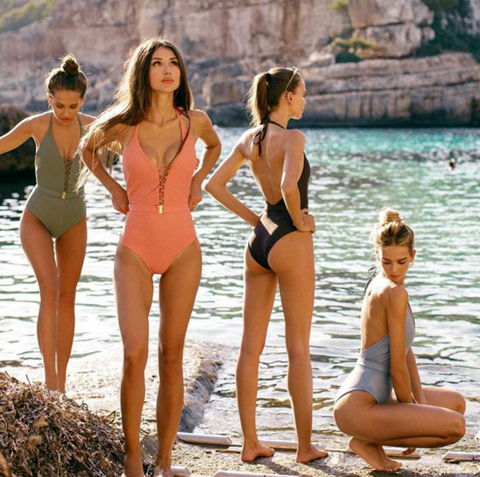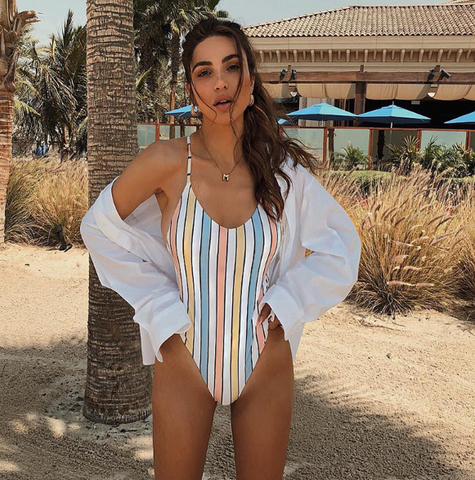 2.Falbala
The swimwear with falbaba adornments can let bosom plump instantly rise on the vision.Falbaba swimwear comes in a variety of cuts, so select something you're comfortable wearing.Pure color falbaba simple and fresh, printed falbaba swimwear with retro appearance and a delicate romantic style. After all, it's all about feeling your best.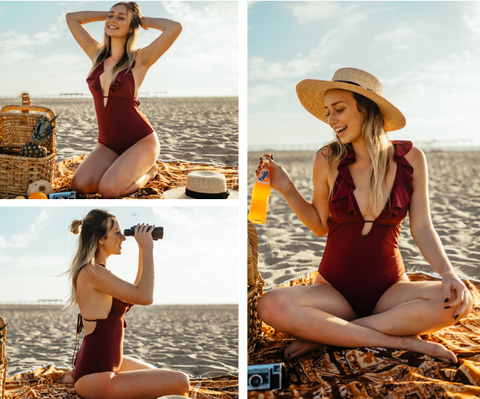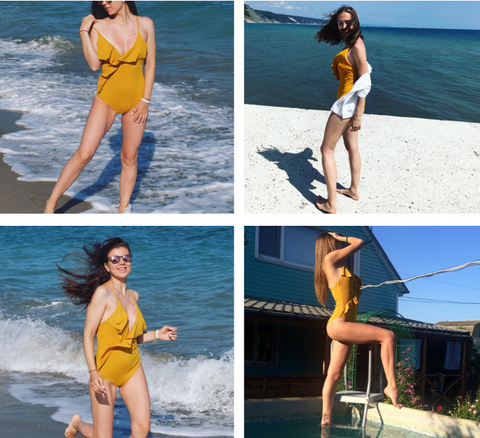 3.Halter
The Halter shows off your shoulders, draws the eye up and away from the chest. Halters help the bust line; padded cups boost you up to two sizes.In the meantime, the halter swimsuit still can pack up mamma accessoria.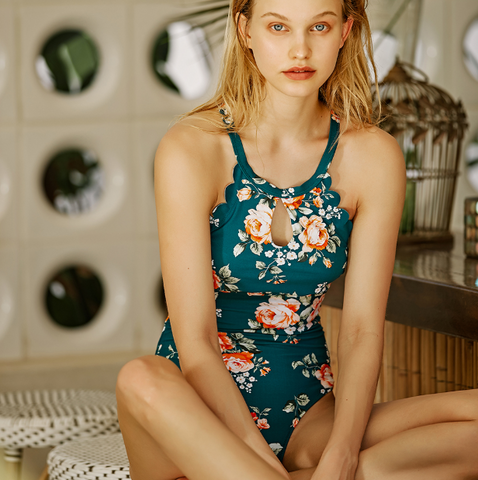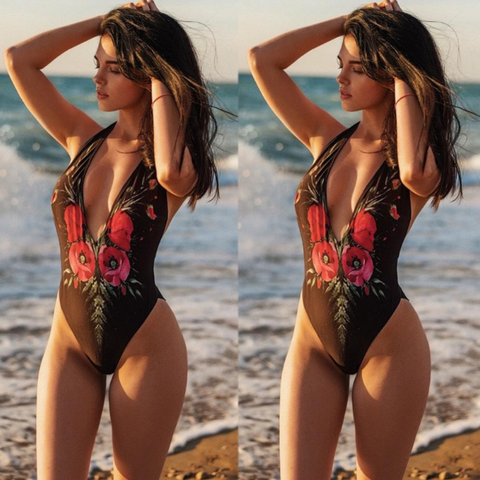 4.Strapless
For decades, strapless has been the hottest look in bathing suits.Influenced by retro style,strapless swimwear is best for slim women.if you had been wearing a strapless swimwear then, then all of that could have been avoided.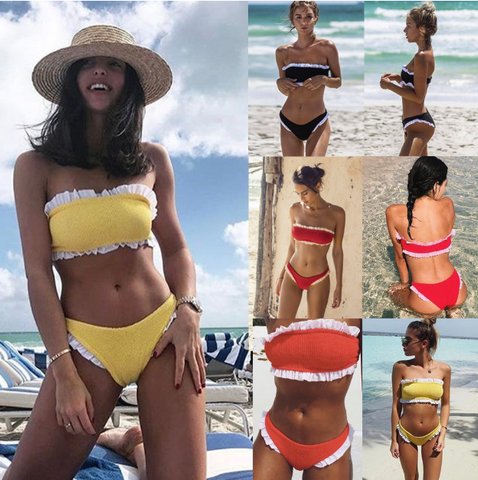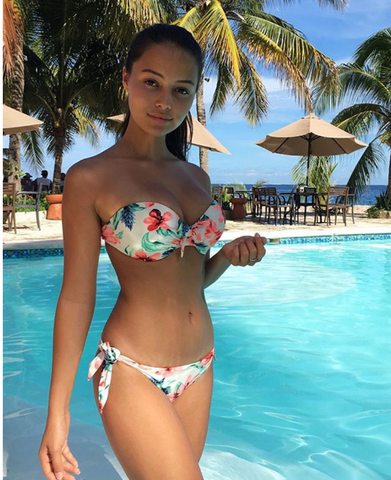 5.Bikini
One of the best parts about having a smaller chest is you'll never feel like you're falling out of your bikini. You'd better not choose one piece swimsuit.That will make you look small.A great bikini is suit all kinds of figure.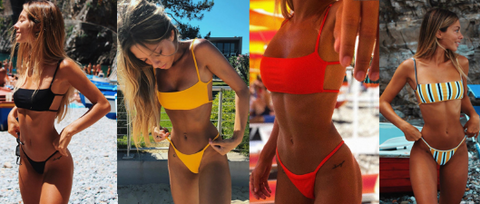 6.Sporty
You don't have to flaunt a barely-there bikini to make a statement on the beach.Sporty swimwear is a small-chested woman's best friend, so why not rock that style as a swimsuit?Usually a sporty swimsuit fits the body more closely than a normal swimsuit.Of course, the sporty swimsuit is more suitable for swimming.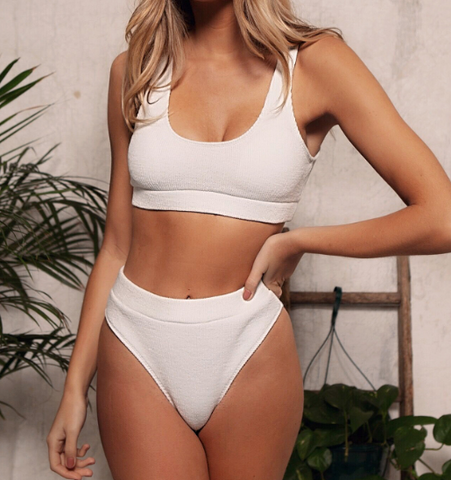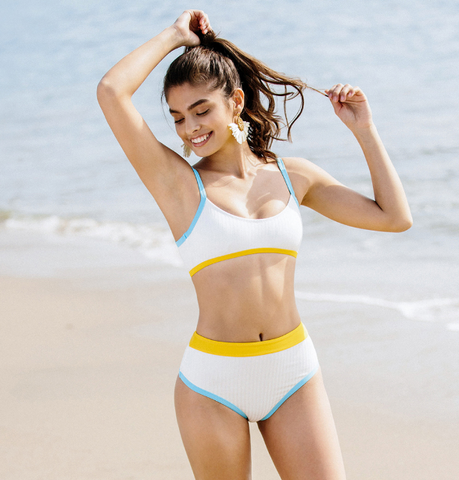 7.Decoration
You can choose a swimsuit with decoration (like bow,lace,button)on the top , which will give you a sense of visual expansion.These decoration not only can add interest to swimsuit, but also can divert the eye at the same time.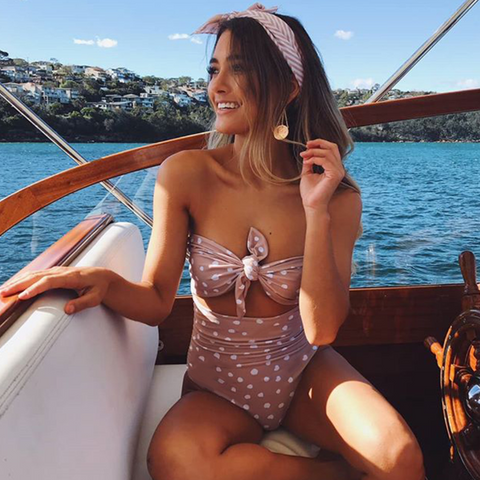 Conclusion
Small-breasted women still have a lot to choose from swimwear.So don't too worried about your figure and your swimwear.The next time when you go to the pool or the beach,you can show off your charm with these small-breasted swimsuits.