Spring is here and romance is in the air.That means summer is coming,and with it beach, pool, and sprinkler season.When you go to beach,there are a few requirements you have to bring with you and your family:a pair of sunglasss,a photo-worthy cover ups or beach towel, Sun bonnet with a large brim,a lot of Waterproof sunscreen,and some stylish swimsuits or bikinis.Of course, swimsuits are the most important of all.
Maybe for yourself, you can still wear last year's swimsuit.But when you pull out your child's swimsuits from last year's closet, you'll find that they don't hold up for this year.It's not easy to choose a swimsuit for your child, especially for girls.In an age where fashion changes so quickly, how and where do you find cute swimsuit for Juniors?It is a big problem.
Here's the good news: Thanks to online shopping, you can pick out your child's favorite swimsuit without leaving your home at Iyassson store. I've rounded up my favorite style of 5 girl's cute swimsuits for juniors.These are all for under $100,and they are so cute that you can't decide which one to pick at end.
#1.GIRL CHERRY PRINT RUFFLE V NECK UNDERWIRE ONE PIECE SWIMSUIT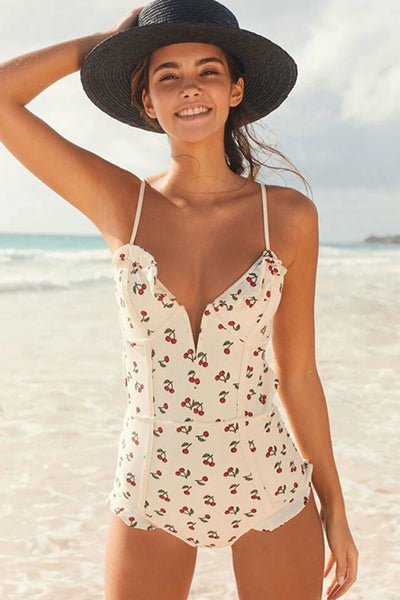 Size:S-L
Color:Black,White
Features:Adorable one piece swimsuit featuring a subtle v neckline with cute frill brim, underwire pad cups, adjustable spaghetti shoulder straps, self tie back fastening, and moderated coverage bikini bottom. Allover in cherry printed.
This cherry-print swimsuit is a great choice for your child, whether it's spring or summer.Because no girl can escape the lure of cherries.
#2.Iyasson Vintage Plaid High-waisted fit Bikini Sets
Size:M-L
Color:One Color
Features:-Plaid-High-waisted fit-Sweet bow at back-Moulded cup with underwire
Plaid has a long history of more than 1300 years.Originally, plaid was used as a mark to distinguish members of different tribes.Later, as the Scots moved, plaiths were brought to more places.It was not until the 1930s that the Duke of Windsor brought the Welsh plinth and the Plinth to public view.With the popularity of retro style in recent years, plaided elements have become increasingly popular.Plaid high waisted bikini set push up sexy design.Your child will like this awesome swimsuit.
#3.Cute Girl Long Sleeve High Waisted Navy Swimsuit
Size:S-L
Color:One Color
Features:-Thickness is moderate-Polish the shape-Resilient-Opaque-Wireless-With breast pad
Navy style is also one of the most popular styles for girls,especially Juniors.This cute swimsuit shows off their figure while keeping warm and protected from the sun thanks to its long sleeves.
The combination of blue and pink makes Junior girls look more lovely.It is the best choice in spring, summer or fall, whether go swimming, surfing or bathing in hot springs.And it's cheap as well.Buy your child before summer starts!
#4.SPORT RIBBED HIGH LEG ONE PIECE SWIMSUIT WITH STRIPED BELT
Size:S-L
Color:Blue,White
Features:Sport style one piece swimsuit featuring scoop neck on the front and back, ribbed pattern overlay, detachable cups, adjustable shoulder straps for your comfort, high leg cut bottom to show your sexy, and the striped belt to make your holiday cheerful.
#5.FLORAL STRAPPY BACK HIGH NECK CROP BIKINI SWIMSUIT
Size:S-XL
Color:one color
Features:Tropical two piece bikini set featuring a midikini top with high neckline, switchback with lace up straps back, removable cups, floral print, and a pair of mid rise bikini bottom in cheeky coverage and stripe print.
Here are Iyasson Top 5 Cute Swimsuits for Junior Girls,which one do you like best?Get yourself and your kids a bathing suit before summer rolls around!It's always a good idea to prepare in advance.(Click the picture and buy it)