Whether you're heading off on a vacation or spending some quality time at the neighborhood pool, the skirted bikini is a fashionable yet flirty choice. Many women feel like they could use some advice on which suits to buy for different body types. Whatever your body type, there's a women's swim skirt to complement your figure. From pear shapes to athletic builds, you'll find a skirted bikini bottom to enhance your body shape beautifully. Today I picked out my favorite stylish skirted bathing suits for you.
Why I choose skirted swimsuit?
Not all girls have perfect body shapes.But women's skirted swimwear suit for all body shapes.Whether you're pear-shaped or apple-shaped, there's always a skirt swimsuit for you.That can hide all lower-body problems: cellulite and stretch marks on the thighs, big buttocks and thighs.Wearing skirted swimsuit will make you look your best and feel super confident.
Here are stylish skirted swimwear you can pick: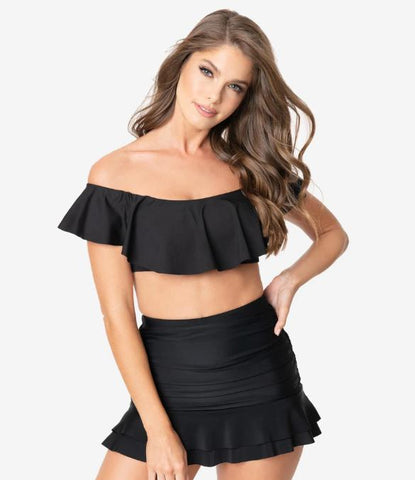 Vintage Black Skirted High Waist swim skirt
The Swim Bottoms are divinely designed with coverage in mind. This classic high waist piece is set in a ravishing black with ruched gatherings at the sides and an adorable skirted flounce to showcase your curves at their very best!There is a buyer said:"Wore it to the water park here & I got a lot of compliments and people asking where I got it. Good coverage, fits great. Made really well, I can tell it will last a long time. I bought a large, I am a dress size 8. I worried it would be too big but it is nice and snug."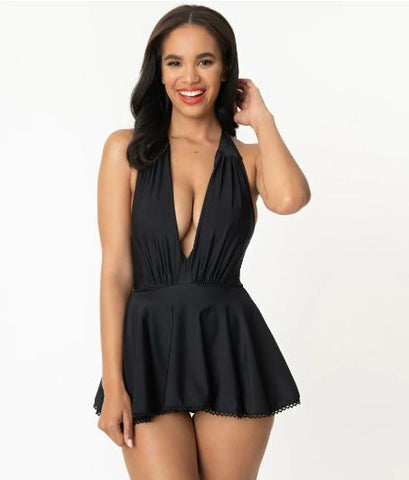 Black Halter Skirted swimsuit
Although this skirted swimsuit is black, but it is striking.Deep v design with an adjustable self tie halter show your body off perfectly.Pleats at the waist are designed to hide your tummy.The seamed waist features an adorable full skirt that drops to a dainty lace trim over comfortably mesh lined briefs. One said:"I was reluctant to buy a bathing suit online but this suit caught my eye because of the cute skirted bottom to cover imperfections yet a unique flattering top of suit to excentuate my better part of my body. It's a perfect suit for my shape!"
Leopard Print High Waist Swim Skirt
Bold leopard prints will bring you into a retro trend.There is a power mesh netting in front that smooths away tummy troubles. With a fold over skirt design, Covered the flesh of the buttocks and show off your perfect waist. It's cute and is so comfortable. Put it on and you'll be the coolest guy on the beach.
Floral Printing Falbala High-waisted Bikini
A floral romance!Floral prints are one of the most popular items in 2020. If you like floral printing swim skirt,then you mustn't miss this one.The combination of enlarged tropical flower prints and color blocks can create a flamboyant style.Large, full-colored flowers give the swimsuit a retro flavor,make swimsuit more a kind of sex appeal.
Cute Shirring Skirt One-piece Swimsuit
Vibrant leaf prints let you feel the breath of nature.The season of enthusiasm, full of boundless vitality.The broad shoulder straps support the weight of the chest well.The v-neck is well designed to lengthen the neck.The wrinkles around your waist help to hide your tummy.A-line hemlines let you stop worrying about tight marks from your trunks.Fresh colors will make your summer a little less monotonous.