Apron Style Swimsuits of the 1950s
Each one of the late 1950's swimsuits had detachable straps and almost every woman appears to be wearing what we would view as the equivalent of a beach corset!  This is particularly noticeable in the mustard version which seems to almost be a coloured corselette. Some of these swim suits were from Marks and Spencers who still make one piece swimwear today.
A wide range of fabrics including lined cotton, stretch Lastex and elastic ruched waffle nylon were popular for 1950s swimwear. You can see a floral version of a waffle elasticated swimsuit on the beach. A ruched swimsuit similar to the floral were even more popular among children.
The legs on the floral and red swim costumes are also the 'high cut' leg of the day. Today such legs cuts would be described on the label as low cut as suits have become cut much higher up the leg in an effort to make the leg seem longer and of course exposing more body at the same time. 
It really is superb reproduction swimming costume and figure flattering suit. With Mad Men all the rage how can you resist.
In the fifties the bikini was still thought of as risqué and best suited to film stars and strippers, but a tame version of the fashion a two piece playsuit was often seen as were skirted 1950s swimsuits.
Two piece suits had sturdy patterned fabric bras with secure wide straps which were set atop shorts with modesty skirts were popular. They were especially favoured by women who wanted to hide their lumpy thighs or hide varicose veins. These were usually made in satin cotton and printed with exotic vivid prints.
1950s Bathing Hair Caps
Hair was so important to the fifties look that no woman wanted it to get wet when swimming, so lavish bathing caps covered in flowers, petals and rubber spikes became essential beach accessories.
This bathing suit fashion also moved onto fashionable occasion hats as decorative clusters of flowers that smothered the hats creating a cloche festooned totally with flowers.
For the beach women liked wrap shirts or button through dresses or simple towelling dresses as cover ups. Sarongs, kangas or pareos only really gained popularity 20 years later.
Think of those old fifties films with women by the pool and you see the chic glamour taken to the beach swimwear.
1950s: Bold Red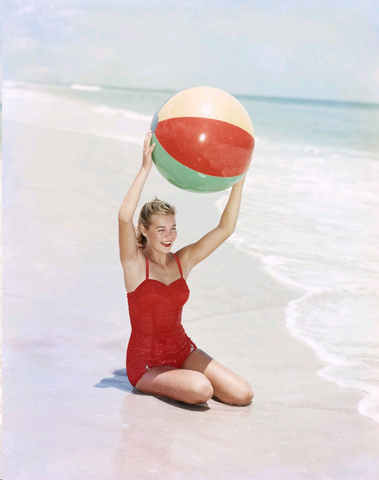 Ruching and a sweetheart neckline make for a very '50s look that's still being replicated today.
1950s: Polka Dots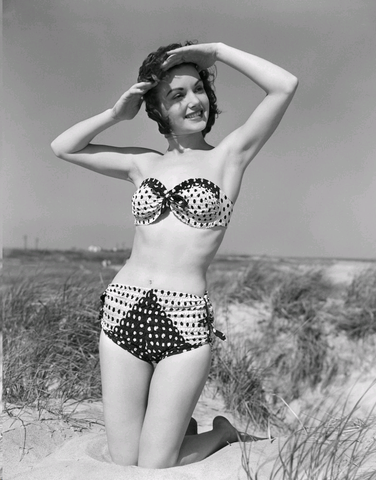 Not-so-bare two-pieces rise in popularity, with bottoms that generally hovered around the belly button.
1953: Fashion Show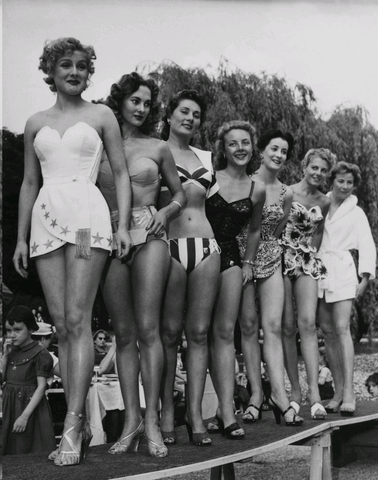 The 1950s were also a fanciful time for swimsuit design, as seen in this French fashion show. Oui, there is a bikini or two in the mix, but also a heavily corseted swimsuit with a star-spangled skirt.
1954: Fur Sure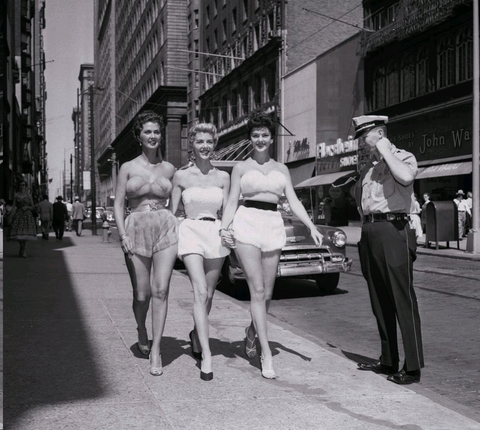 Fashion also went in an unwearable direction, with swimsuits made entirely of fur.
1950s: Metallic Mermaid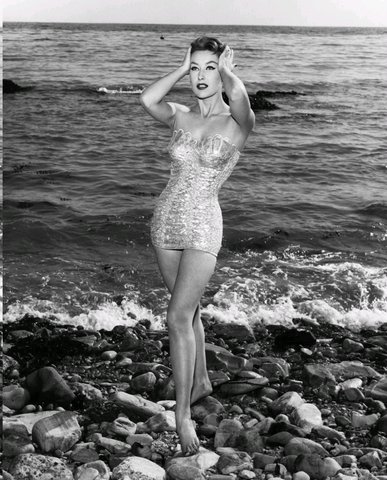 Metallic lamé fabrics brought glamour to swimwear in this era.
This very fabulous mermaid-inspired suit (the cups are shells!) was made out of the glittering material.
Old-fashioned cottons with ruffles still leave skin bare for the beach
Although they are brief in size and brash in color, the newest beach clothes make the wearers look some-thing like old-fashioned girls of some 80 summers back.
These flouncy playsuits and bathing suits pose a considerable amount of skin, but are demurely decorated with pinafore necklines, little girl skirts, ruffles and bustles and bows. One swimsuit with bloomer pants is made even quainter by a floppy sun-bonnet. Made of brightly-colored cotton or gingham, the new styles look best on young, long-legged girls.
This summer's new hair-by-the-yard can be worn in a trailing ponytail, wrapped in a knot or tucked wider big straw hat