Which anime series do you like best?Who is your favorite anime Character girl?What style of anime character girls do you like best?When you read this article, your mind will certainly come up with your favorite anime girl.We try to collect popular anime girls of all ages:sexy bikini anime girls,cute anime girls and hot anime girls.Anime girls come in all shapes and sizes.But there is no denying that when we see the sexy cute bikini anime character girl, we will definitely be enchanted.
So moving along without any further ado,here is top sexy cute bikini anime girls :
#1.Irina Shidou from High School D×D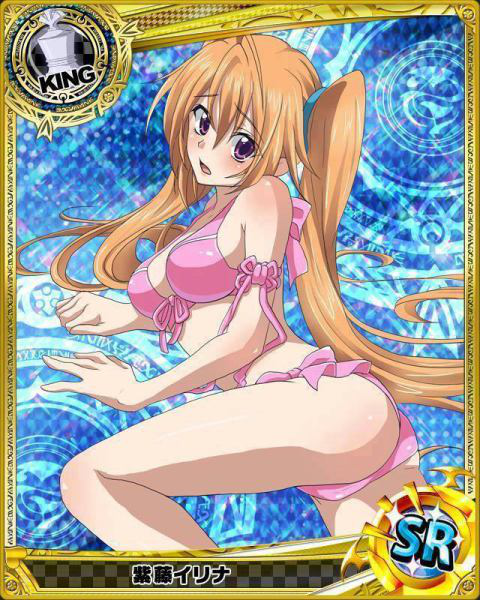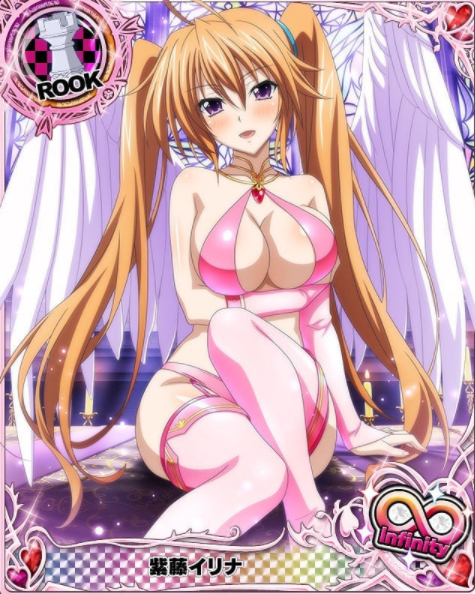 Cute Bikini Anime Character Girl—Irina Shidou
Height: 164 cm (5' 5")
BWH: 87/59/89
Race: Angel (Former Human)
Rank: Ace of Spades
Weapons: Excalibur Mimic, Holy Demonic Swords
First Appearance: Volume 3
Irina is a very happy, upbeat person, as well as a devout Christian in the High school D×D.High School DxD is set in a fantasy world filled with diverse characters: angels, demons, gods, and even dragons! And she is a hero,calling herself an angel.She had big purple eyes, chestnut hair and often a ponytail.
Irina Shidou is a warrior of the church, the only celestial representative of the high school student and occult Research Department of King's College, and the reincarnation angel of the human race.She is Tsto Issei childhood sweetheart, later becomes his wife.
#2.Asuna Yuuki from Sword Art Online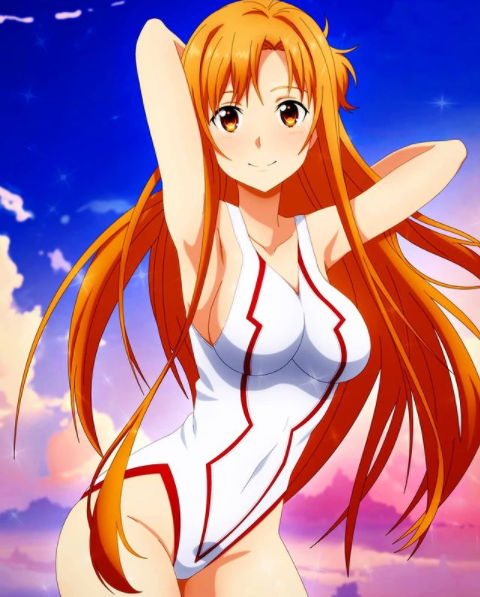 Bikini Anime Character Girl—Asuna Yuuki
Birthdate: September 30, 2007
Age: 15 (Beginning of Aincrad arc); 17 (End of Aincrad arc, Fairy Dance arc); 18 (Phantom Bullet arc, Alicization Arc)
Height: 168 cm
Weight: 55 kg
Three Sizes: 82-60-83
Weapons of choice: Wind Fleuret (1st Floor), Lambent Light (Forged by Lisbeth)
Asuna Yuuki is a fictional character who appears in the Sword Art Online.Out of curiosity, she borrowed the engine of her brother Koichiro To enter SAO's online game and set up the character's name with her real name..She has been scared and scared since she got involved in the game of Death. She always wants to break through the 100 level and return to the real world as soon as possible. She is called by the strategy group as the ghost of the top guild..Later Asuna Yuuki fell in love with Kirigaya Kazuto and got married in the game.
#3.Tsukiumi from Sekirei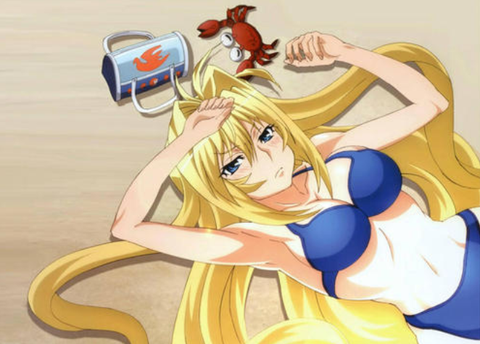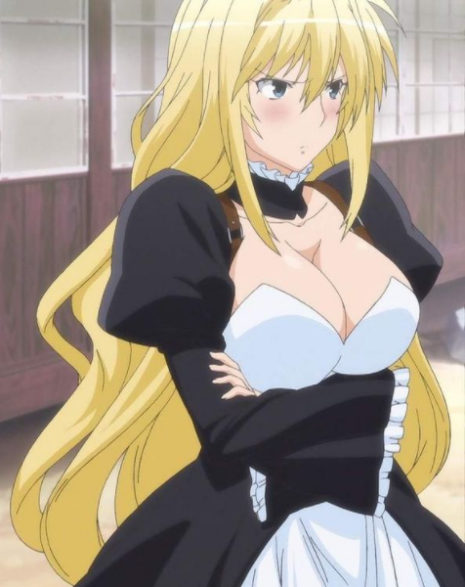 Sekirei:No.09
Species:Sekirei - Water sekirei
Gender:Female
Height:165cm
Weight:47kg
Three Size:B 94 / W 57 / H 88
Tsukiumi is a sexy and cute Bikini Anime Character Girl as well.She is a Sekirei with a tsundere personality and a Western appearance who first appeared to Minato in a dream saying that she would kill him,but when they finally met she was persuaded into becoming his Sekirei.She is statuesque and blonde, wearing a black and white dress and brown boots over black thigh-high stockings with brown garters. Tsukiumi is a Sekirei with a tsundere personality and the most aggressive of Minato's party and has a very short temper; she rarely smiles.
.She proclaimed herself to be Minato's legal wife which caused a rivalry between her and Minato's remaining Sekirei, in general Musubi with who she often competes to gain the right to be called 'Minato's legal wife'.
#4.Yukinoshita Yukino from My Youth Romantic Comedy Is Wrong, As I Expected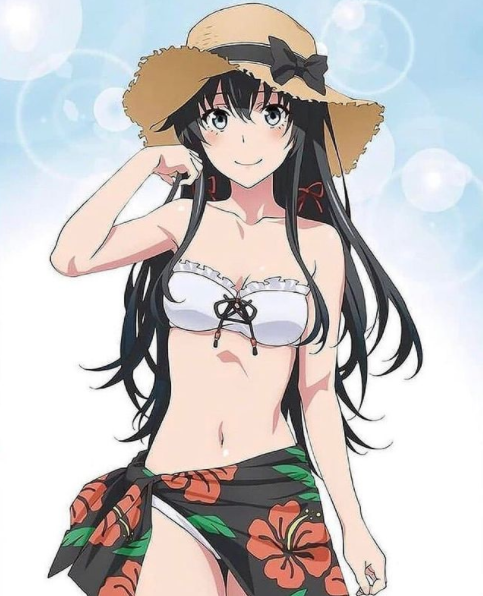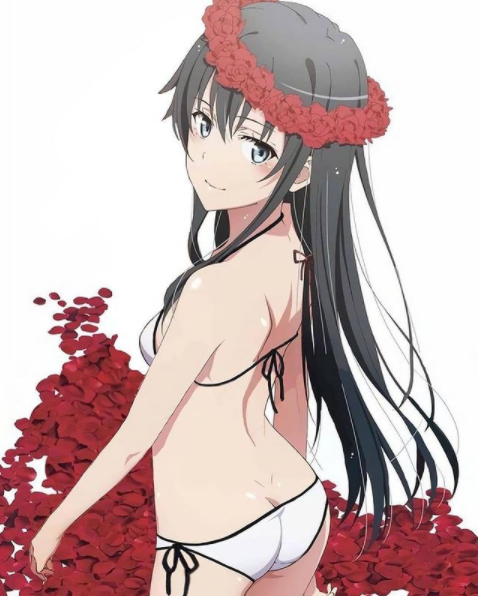 Cute Bikini Anime Character Girl—Yukinoshita Yukino
Birthday:January 3rd (Capricorn)
Hair color:Black
Eye color:Blue
Blood type:B
People who don't work hard don't have the right to be envious of the people with talent. People fail because they don't understand the hard work necessary to be successful. "
—Yukino Yukinoshita
Yukino is a student in class 2J and the president of the Service Club,She has a nice face, delicate features, fair and transparent skin, pink lips, long black hair over her shoulders, a lovely face with two dimples when smiling, and tiger teeth and ice-blue pupils. she was the sole member until Hachiman joined. Born to a wealthy family, she is smart, beautiful, and nicknamed the "Ice-cold Beauty" for her icy demeanour. She shows no empathy and little kindness towards Hachiman at first, but eventually opens up to him.
#5.Hanekawa Tsubasa from Monogatari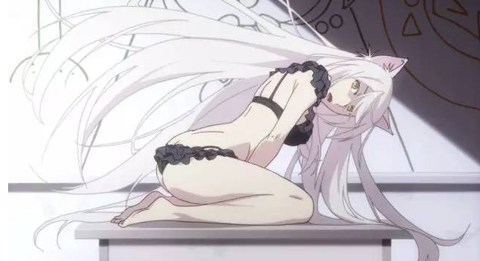 Sexy Bikini Anime Character Girl—Hanekawa Tsubasa
Hanekawa Tsubasa, the main character of Tsubasa Cat, is Koyomi's classmate and the claShe styles her hair into two braids and ties them with a hair ribbon that has a cat design. She is always seen dressed in the uniform of Naoetsu Private High Schoolss representative. Koyomi describes her as "the class representative of all class representatives." However, hidden by her achievements in school and her kind personality is a tense family life caused by unfortunate circumstances.
#6.Hinata Hyuga from Naruro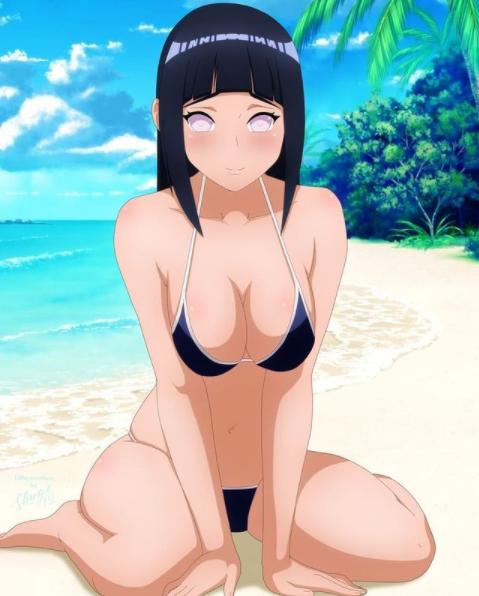 Sexy Bikini Anime Character Girl—Hinata Hyuga
Birthdate:December 27th
Age:Part I: 12–13,Part II: 16
Height:Part I: 147.3 cm–148.3 cm,Part II: 160 cm,Blank Period: 163 cm
Weight:Part I: 37.9 kg–38.2 kg,Part II: 45 kg
Blood type:A
Hinata Hyuga is a fictional character in the anime and manga Naruto, created by Masashi Kishimoto. Hinata Hyuga is a chunin level shinobi of Konohagakure's Hyuga clan, and Uzumaki clan.Hinata Hyuga is a kind, gentle, strong, soft outside and just pacifist.Therefore she is nicknamed as Byakugan Princess. At the start of the series, Hinata has strong admiration toward the main protagonist — Naruto Uzumaki, which eventually turns into love as the story progresses.Hinata Hyuga liked Uzumaki Naruto in the whirlpool as a child.She was originally a weak girl, but under the influence of Naruto's character gradually become strong, and gradually grow into an excellent female ninja. A few years after the Fourth Shinobi World War, Hinata joined the Uzumaki clan after marrying Naruto.
#7.Sena Kashiwazaki from Boku wa tomodachi ga sukunai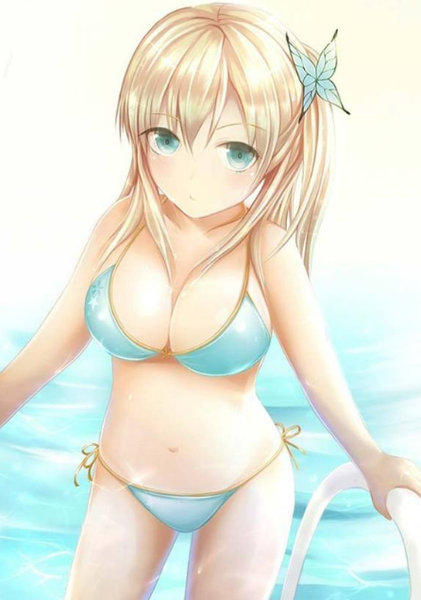 Sexy Cute Bikini Anime Character Girl—Sena Kashiwazaki
Age:17
Date of Birth:May 19th
Height:164 cm (5'5")
Job:High School Student
Class :2-3 (Formerly) 3-4
Sena Kashiwazaki is the female tritagonist of the Boku wa Tomodachi ga Sukunai series. She is the first recruited member of the Neighbor's Club and the daughter of Tenma Kashiwazaki, headmaster of St. Chronica's Academy.She was a blonde, buxomely beautiful woman with good grades and athletic abilities. She was perfect in every way except for her personality.She is adored by men for her looks and her character, but has no friends of the same sex. Despite being constantly surrounded by boys (who, according to her, are "doormats"), all she wants are true friends, which drove her to join the Neighbor's Club.
#8.Kurumi Tokisaki from Date A Bullet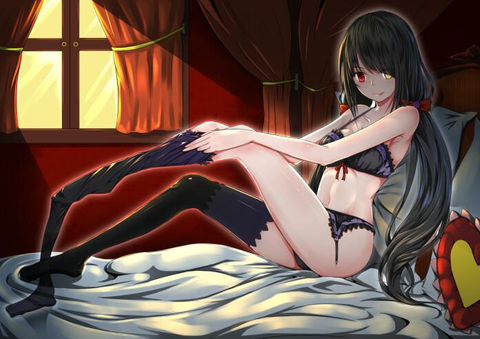 Sexy Bikini Anime Character Girl—Kurumi Tokisaki
Age:17-18 (Physically)
Height:157 cm
Species:Human
Hair Color:Black
Eye Color:Red ,Yellow Clock (Left Eye; Spirit)
Nicknames:Nightmare,Kurumin (By Rio and Nia)
Kurumi Tokisaki is a major antagonist in the Date A Live franchise and later becomes one of the main protagonists.Kurumi was once an ordinary human before becoming a Spirit. She grew up as the daughter of a rich family and was beloved by her parents.She has ivory skin and long, black hair usually tied in long twin tails. Her right eye is red-tinted while her left eye appears as a golden, inorganic clock face.Kurumi Tokisaki is the third Spirit to be encountered in the franchise and is the most dangerous and lethal Spirit to ever appear in the in-universe of Date A Live.
#9.Misaka Mikoto from A Certain Scientific Railgun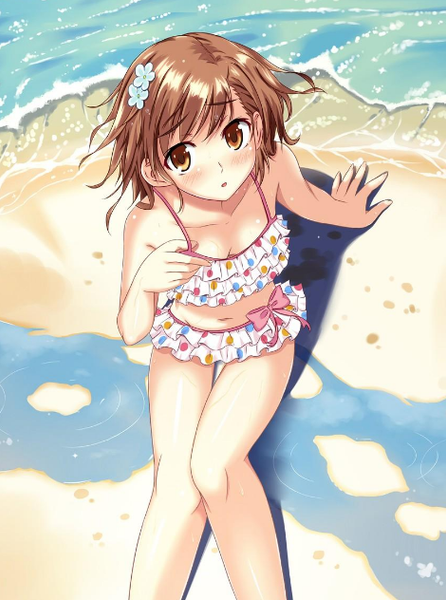 Cute Bikini Anime Character Girl—Misaka Mikoto
Status:Alive
Age:14
Gender:Female
Height:161 cm (5'3")
Family:Misaka Misuzu (Mother),Misaka Tabigake (Father),Sisters (Clones)
Misaka Mikoto has chestnut hair and is often seen wearing a small hair clip.She is ranked third out of only seven superpowers in Academy City, And She is nicknamed Railgun because of her ability to control electricity.To most people, she is considered a 'proper lady', but in reality, she's short-tempered, prideful, and has an improper attitude with some slight tomboyish tendencies  and insecurities.Because of poor breasts, she wore childish underwear instead of a bra.Although the bottom of her heart does not like it, but Misaka Mikoto usually will choose a more conservative bikini.
#10.Nami from ONE PIECE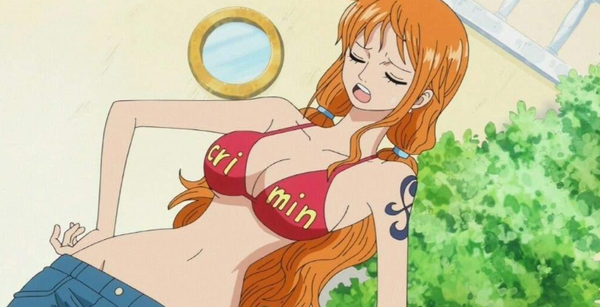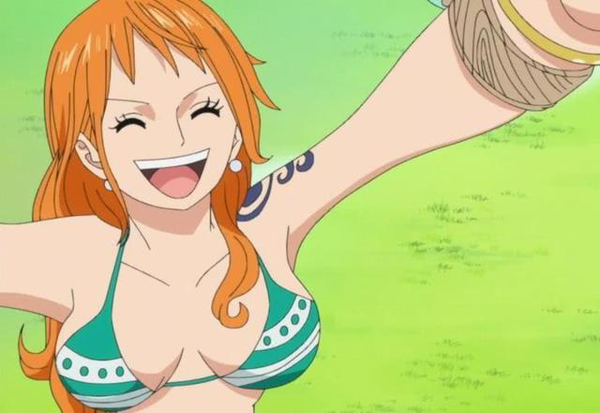 Sexy Bikini Anime Character Girl—Nami
Age:18 (debut),20 (after timeskip)
Birthday:July 3rd
Height:169 cm (5'6½") (debut),170 cm (5'7") (after timeskip)
Blood Type:X
Three Size:98/58/88
Nami is a fictional character in the One Piece franchise created by Eiichiro Oda.Nami has beautiful orange hair. When she first appeared, she had a short, playful haircut. After two years, she kept it long wavy, with a bunch of hair on the left side, which is very feminineShe is the navigator of the Straw Hat Pirates,known as the "Cat Burglar" .In the original setting, Nami was not a sailor, but a beautiful fighter with a sharp axe who dreams of drawing a map of the entire world.Nami likes money and oranges best.She currently has a bounty of 66,000,000 Beli .In essence, Nami is a careful, kind, attach importance to feelings, hate evil, occasionally some gentle and capable women.