Surfers figured out years ago that they needed to cover up their arms to protect themselves from the abrasions and rashes a surfboard can cause. These long-sleeve swimsuits are known as rash guards.I've long been a fan of long sleeve swimsuit but I've noticed that a lot of people ignore long sleeve swimsuits in favour of bare arms. Sporty style is a huge trend right now,and has made its way to swimsuit.Would you wear long sleeve swimsuit in the summer?There are so many reasons why you should consider a long sleeve swimsuit.
Why do I choose long sleeve swimsuit?
*Sun block
:The sun in the summer is so fierce that our skin is easily tanned and sunburned.Long-sleeve swimsuits are great for protecting your skin from the sun while lounging poolside or playing beach volleyball.When we wear sunscreen, we need to spend a lot of time on our backs and arms. if you swim on your own as putting sunblock on your back is just HARD!Wearing it not only saves sunscreen, but it also saves time.
*Keep warm
:If you're going for a swim in colder waters or colder weather then the long sleeves are going to keep you a bit warmer than the average bikini would.
*More secure
:You don't need to worry about bits falling out while you are swimming or after when you are coming out.And No need to worry about fiddly straps or clasps at the back, long sleeve swimsuits are the most simple of swimwear.
*unique style
:Most people choose to wear bikini to the beach,Only a few opted for long-sleeved swimsuits.Wearing a long-sleeve swimsuit is bold.What's more,If you layer shorts or a skirt over your long-sleeve swimwear, it can double as a stylish bodysuit—perfect for going straight from the beach to dinner or happy hour.
Which Long Sleeved Swimsuit to Choose?
*There are all kinds of long sleeve swimsuits on the market.They come in all colors and patterns, so there's something to suit everyone.The main thing to decide first is if you want one made from swimwear material or from neoprene.
*Another thing you should be aware of is the zipper.make sure it is long enough, you want it to go down to your tummy button, particularly if you have boobs, otherwise you will never get out of it.
*Zip up the front or the back.Personally, I prefer the zipper on the front.It is more convenient to adjust and put on and off.
*Thumb holes on the sleeves or not. If you're worried about the sleeves riding up, you'd better go with the perforated sleeves.
How do you feel about long sleeve swimwear?
Have you worn one before?What's cool about long-sleeve swimsuits is the fact that they are different. Sure, women's swimwear has it's fair share of trends – sequins, ruffles, and color-blocking – but a significant change in its shape is really unique. Here are my favorite long sleeve swimsuits: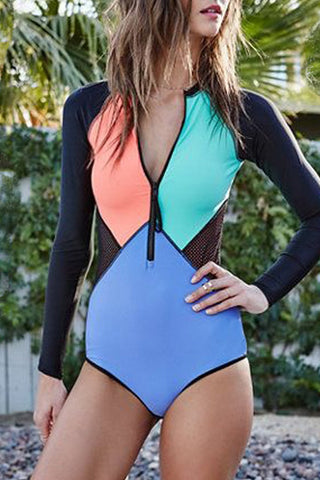 Romance Solid Splicing Printing Long-sleeve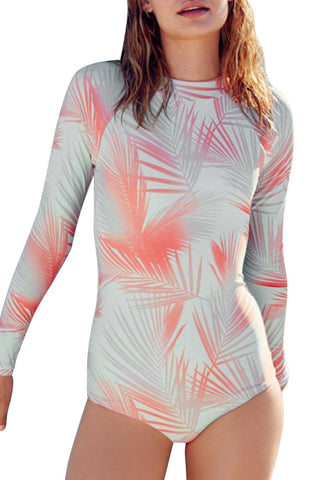 Iyasson Orange Palm Leaves Printing Long Sleeves swimsuit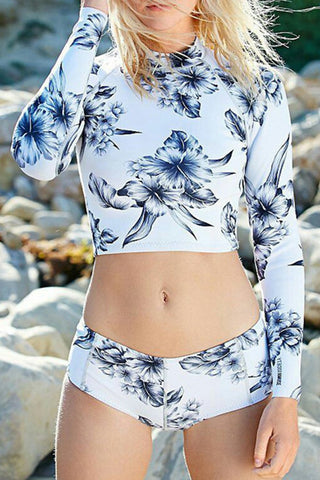 Iyasson White Trendy Sport Style Floral Printing Swimsuit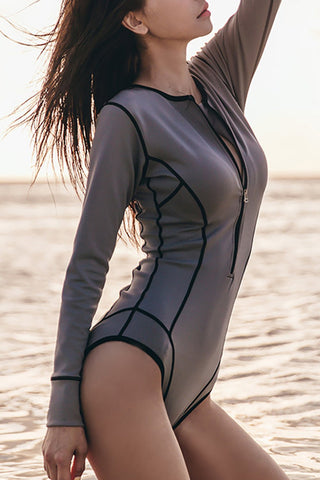 Long-sleeves Solid One-piece Swimsuit
💖💖💖
Would you wear long sleeve swimsuit?
Which one above is your favorite?
Do you think this style will be popular for a long time?
We're dying to know if they're really hot or pretty breathable. I'm not saying a long sleeve suit is for everyone, but I'm hoping this blog might inspire someone to consider a long sleeve in the future.